Description

Included

More

Features

Specs

Pedal Accessories
UNLEASH YOUR VOICES
Packed with professional vocal effects, built-in looper, and our new Formant Pedal, no matter what style you sing the V6 will take your music to the next level.
Mic not included!
XLR mic cable not included
V6 Vocal Processor
AD-16 AC Adapter

Quick Guide
Patch Memory List
*Mic Not Included
*XLR mic cable not included.
XLR MIC INPUT (A)
PHANTOM POWER SWITCH (B)
CONTROL PEDAL INPUT (C)
USB OUTPUT/AUDIO INTERFACE (D)
HEADPHONE OUT/VOLUME CONTROL (E)
XLR OUTPUT (F)
DC POWER IN (G)

FIND YOUR VOICE
Select your desired Voice Effect from 12 different options ranging from the Unison Effect to Octave, Up/Down, to Vocoder. You can even chose Pitch Correct to deliver your EDM sound.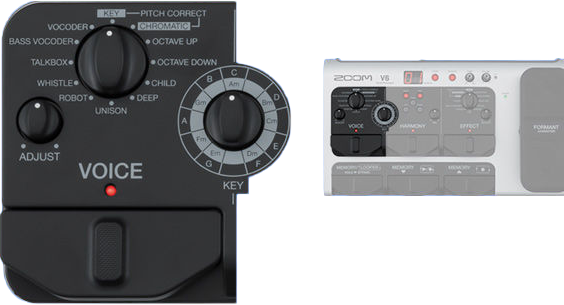 CRAFT YOUR HARMONY
Add up to two backing vocals and create your perfect three-part harmony. Based on the key you've chosen, the V6 creates the appropriate harmonic intervals.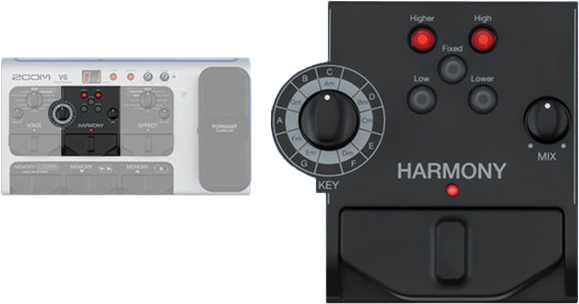 EXTRA SAUCE
Choose from 10 popular studio effects including classics such as Delay, Chorus, and Reverb. Or go modern with effects like Telephone and Beatbox.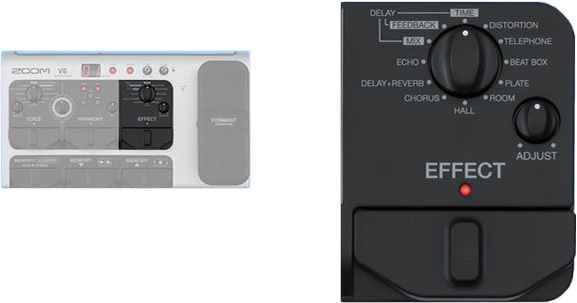 V6 offers over 10 studio-grade effects
Simultaneously use up to three vocal processors from the Voice, Harmony and Effect sections
Formant Shift pedal for adjusting your vocal character in real time

Looper for recording up to 3:30.
40 preset patches created by professional vocalists and audio engineers
100 memory locations for storing user-created patches
Built-in compressor for optimizing input signal levels
Built-in Enhancer for optimizing input signal frequencies via equalization and de-essing
USB 2.0 audio interface capable of recording up to 16/24/32-bit, 44.1 kHz
USB port for firmware updates, power and audio recording
Line output for connecting to external mixing consoles
Headphone output with dedicated volume control
Runs for 3.5 hours on four AA batteries
Included AC adapter
Optional expression pedal offers advanced control over effects parameters
V6 VOCAL PROCESSOR

VOICE SECTION 12 types
EFFECT SECTION 10 Types
HARMONY SECTION 5 Types
NUMBER OF PATCH MEMORIES 100
SAMPLING FREQUENCY 44.1 kHz
A/D CONVERSION 24-bit 128× oversampling
D/A CONVERSION 24-bit 128× oversampling
SIGNAL PROCESSING 32-bit
FREQUENCY RESPONSE 20 Hz–20 kHz (+1 dB/−3 dB) (200 kΩ load)
DISPLAY 2-digit 7-segment LED

INPUT

MIC IN XLR jack Input gain: +3 – +40 dBMaximum input level: +4 dBuInput impedance: 3 kΩ or higher (1 kHz)Phantom power: +48 V

OUTPUTS

OUTPUT XLR jack Maximum output level: +8 dBuOutput impedance: 50 Ω (HOT-GND, COLD-GND, 1 kHz)100 Ω (HOT-COLD , 1 kHz)GROUND LIFT (switchable)
PHONES Stereo mini jack Maximum output level:20 mW + 20 mW (into 32 Ω load)
EQUIVALENT INPUT NOISE (WHEN PHANTOM POWER OFF) –125 dBu or less (A-weighted, 150 Ω input, +40 dBu input gain)
NOISE FLOOR (RESIDUAL NOISE) –75 dBu
CONTROL INPUT FP02 input
POWER AC adapter (9 V DC 500 mA, center negative) (ZOOM AD-16) 4 AA batteries (about 3.5 hours continuous operation time when using alkaline batteries)
USB

Connector: Micro USB Audio interface operation: 2-in/2-out USB2.0 Full Speed, 44.1 kHz, 16/24/32-bit• Power can also be supplied through the USB port.• When using a cable designed only for power, other USB functions cannot be used.

EXTERNAL DIMENSIONS: 181 mm (D) × 320 mm (W) × 77 mm (H)
WEIGHT: 1.56 kg (excluding batteries)