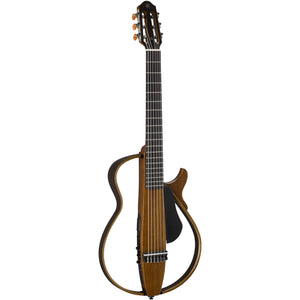 Description

Features

Specs

Inspection and Set-up

Humidity Care
*These are stock photos. Actual color and pattern may vary.
Whenever, wherever
The compact and lightweight Silent Guitar is the perfect instrument for practice, travel, and live performance. Although ultra-quiet acoustically, the Studio Response Technology (SRT) Powered preamp system delivers natural-sounding acoustic tone through headphones or the line output. Onboard studio-quality effects enhance your playing experience, a line input lets you jam along to backing tracks, and the detachable wooden frame facilitates easy transport. Play whenever and wherever inspiration strikes!
The nylon-string Silent Guitar SLG200N has always been an ideal instrument for practice, travel, and performing—and the new Crimson Red Burst finish adds a bold, modern aesthetic.

Yamaha SRT Powered pickup system for great performance sound
Super-compact, with detachable frame for easy travel
1 31/32" (50mm) nut width
Headphone jack for ultra-quiet practicing
Onboard tuner
Durable gig bag included
Sound by SRT Powered
SRT Powered is a new system designed to recreate the body resonance of an acoustic guitar in a bodiless guitar. Yamaha developed SRT Powered, collaborating with recording artists to create a system tailored to the unique properties of the new SLG body and modelled after the tones of a high-end Yamaha acoustic guitar captured using a carefully selected microphone in a professional recording studio environment. By actually reproducing the sound of an acoustic guitar—right down to its natural sustain and decay—Yamaha lets guitarists experience the genuine body resonance, body tone and ambience of an acoustic guitar.

SRT Powered sound can even be mixed with the sound from the instrument's piezo pickups, allowing guitarists to be even more flexible in their creative endeavors.

Because the SLG can virtually reproduce the sound of a guitar recorded with a microphone, players are free from complicated procedures involved in mic-ing up a guitar when recording at home or in other settings.
Playability
The slim body of the SLG gives these instruments superb playability, and allows players to switch to playing an electric guitar without any discomfort should the need arise.

Design
With the SLG, Yamaha set out to bring a modern feel to the classic contours of a conventional guitar. The distinctive design that emerged is the result of a collaborative effort between the project team and the Yamaha Design Laboratory, and combines traditional guitar lines with an innovative new form unlike that of any guitar before it.

Portability
The detachable top section of SLG's frame means that practicality and portability are way beyond that of a conventional guitar. The luxury gigbag provided can be carried with ease and fits into an aircraft overhead compartment with room to spare.

Quietness
The bodiless design of the SLG offers a natural, quiet sound that allows guitarists to play without disturbing others, whether practicing late at night or playing in the living room when the family is home. The SLG200S is eighty percent quieter than a conventional acoustic guitar.
 
Functionality
Connect to an external music player to enjoy music playback, enhance your playing with a range of authentic effects, or plug in headphones to enjoy playing in privacy—the SLG offers a variety of functions that make playing even more enjoyable. What's more, SLG come with a built-in precision chromatic tuner, compatibility with both battery- and AC power, and a range of other user-friendly features.


Durability, Stability
Yamaha's SLG features excellent durability owing to its solid body structure, so users do not have to worry about damaging the instrument when playing live or traveling. Both the steel string and nylon string models are fitted with a dual action truss rod, allowing both convex and concave bow to be adjusted.
Scale Length 650mm (25 9/16")
Total Length 970mm (38 3/16")
Body Width 356mm (14")
Whole Depth 87mm (3 7/16")
Nut Width 50mm (1 31/32")
String Spacing 11.5mm
Body Material Mahogany
Frame Material Rosewood & Maple
Neck Material Mahogany
Fingerboard Material Rosewood
Fingerboard Radius Flat
Bridge Material Rosewood
Nut Material Urea
Saddle Material Urea
Tuners RM1188NB-7B
Pickguard Black
Body Finish Gloss (Matt for NT color variation)
Neck Finish Matt
Electronics SRT Powered System
Controls Power / Vol / AUX.Vol / Bass / Treble / Smooth Control Effects(Reverb1, Reverb2, Chorus) / Chromatic Tuner / SRT Blend
Connections Line OUT / AUX IN / Phone Input / DC-IN
Strings Medium(Yamaha S10)
Accessories Stereo Earphones / 2 * AA Batteries
Case Original Carry Bag
At Easy Music Center, we care for our instruments from the moment they arrive to when they ship to your door. All instruments are stored in a climate controlled environment and put through a 12-point inspection checklist before being shipped.
First, we check the finish of the instrument, carefully inspecting any blemishes on the surface. Next, we check the playability and setup by inspecting and adjusting the truss rod (if available), bridge, nut, and frets to manufacturer factory specifications. Any request made outside of manufacturer factory specifications can incur additional charges for parts and labor. If the instrument has electronics, we test all of the electronic components to make sure they are functioning properly.
After a thorough inspection, we then move on to maintenance. We start by lubricating any moving parts on the instrument, such as tuning machines. We then move on to cleaning and oiling the fretboard along with the frets.
Once maintenance is done, we stretch and tune the strings and play test the instrument. After this, we do a final inspection and clean/detail the instrument before packing it up for shipment.
We're excited to be a part of your instrument buying experience.
Acoustic guitars and ukulele are made of wood, and wood is sensitive to changes in climate. Shifts in temperature or relative humidity can affect your instrument in multiple ways, some of which can lead to costly repairs if you're not careful. Solid woods in particular are especially prone to the effects of climate fluctuation. For example, extended exposure to low relative humidity (below 40% RH) can dry out the wood, causing it to shrink and run the risk of cracking. Similarly, excessive humidity can cause the wood to absorb moisture and swell, potentially causing other problems. Without adequate humidity control (especially in drier local climates), acoustic instruments can crack and their necks can warp, causing problems with fretting, intonation and playability.
So how do you prevent this kind of damage? Easy: by keeping your guitars and ukulele properly humidified (ideally between 40-60% RH). The easiest way to do this is by storing your instruments in a case with a case two-way humidifier inside. A two-way humidifier will slowly absorb or release moisture inside your case, maintaining humidity to help ensure your instrument doesn't suffer damage. Using a digital hygrometer can help you monitor humidity levels around your instrument.
Symptoms of a dry acoustic instrument:
Low action. Strings are very close to the fretboard.

Hump on the fretboard where the neck joins the body.

Sunken top across the soundboard between bridge and fingerboard.

The back of instrument looks very flat when it is dried out.

Sharp fret ends extend beyond the edge of the fretboard.

The plane of the neck angle on a dry instrument hits above the top of the bridge.
Symptoms of a wet acoustic instrument:
High action. Strings that are unusually high off the fretboard, making it difficult to play.

Unusually swollen top

Unusual warp on the top, back or both at the end-block

Improper neck angle. Sighting the neck to the bridge, the frets will appear to hit below the bridge.
Using patented technology, the D'Addario Two-Way Humidification System features disposable, moisture-filled packets with a breathable membrane that provides two-way humidity control, meaning it can either release or absorb moisture to consistently maintain a predetermined relative humidity (RH) level of 45-50 percent.
Music Nomad the leader in equipment care products, has developed an easy to use, no mess, and low maintenance Ukulele humidifier. The Humilele rests securely on top of the strings to safely and evenly hydrate your Ukulele to avoid these problems.
Final Notes on Humidity Control
To monitor the amount of humidity your instrument is receiving, we recommend the purchase of a digital hygrometer, a device that gauges and provides a read-out of humidity levels. It can be kept in the room where you store your instruments, or, better yet, in a central location inside the instrument case, preferably Velcro'd to the outside of the accessories compartment (facing the heel). The optimal range for your guitars and ukulele is 45-55% RH.