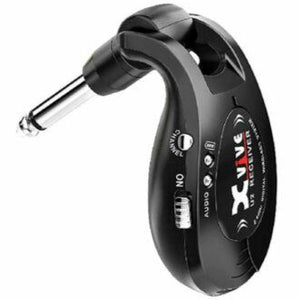 Natural Sound
Compare the U2 to an instrument cable—you won't hear a difference in tone, and you won't feel a difference in response! For guitarists, nothing is more important than tone. The Xvive U2 is the only system that delivers your tone without compression or tonal compromise. The U2 has a wide frequency response, next-generation audio technology, and better dynamic range than other wireless systems; this means you can literally plug in and forget about it.

Fast and Simple Recharging
One way of getting around the continuous expense and environmental cost of using batteries is to use rechargeables. But still, dealing with rechargeable batteries is a hassle. With the U2, you can easily recharge the onboard power by using the included Y cable with any USB outlet or power adapter, the same way you charge your mobile phone. The U2 offers up to five hours of play time with a full charge, and you can partially charge the units between sets if necessary!