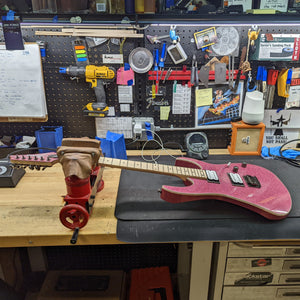 Description

Eligible Instruments
*SERVICE ONLY. DOES NOT INCLUDE STRINGS. STRINGS ARE SOLD SEPARATELY.
We don't do any ordinary restring here at Easy Music Center. We treat your instrument as our own, so when we say restring, it's more than just replacing old strings. 
We want to make sure your instrument plays to the best of its ability and lasts you a lifetime. So make the Easy choice and service your instrument with us. 
Restring service includes:

Inspection
Cleaning
Maintenance
Quick Detailing
**Note that this service does not include adjustments to the truss rod, nut, or bridge/saddle.
6-string acoustic or electric guitars
6-string acoustic or electric bass guitars
6-string ukulele