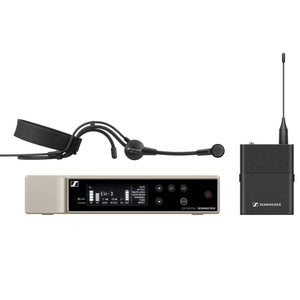 Description

More

What's in the Box

Features

Specs
All-in-one digital wireless lavalier set for those who sing or speak featuring Sennheiser's renowned ME 3 cardioid headset microphone.

Versatile and feature-rich digital wireless system for those who speak or presentt that allows for seamless product pairing and management via the EW-D Smart Assist App. With a metal housing, the robust bodypack transmitter and unobstrusive clip-on microphone ME 3 (cardioid) with high speech intelligibility suit perfectly for daily use on stage.

Raising the bar
Evolution Wireless Digital breaks the boundaries by providing more dynamic range than any wireless system currently on the market. Automatically securing the most reliable signal in a matter of seconds and scalable up 90 channels thanks to 56 MHz of tuning bandwidth, it's easy to see why this wireless system is in a class of its own.

Equidistant Spacing – simpler than it sounds
Evolution Wireless Digital features an equidistant tuning grid previously only found in our flagship Digital 6000 and Digital 9000 wireless systems. Quality components with exceptional linearity eliminate intermodulation between EW-D transmitters, allowing frequencies to be equally spaced every 600 kHz alongside each other. This simplifies frequency coordination for wireless beginners and seasoned professionals alike, and also contributes to the system's scalability and impressively high channel count.

An engineer in your pocket
The power of Bluetooth Low Energy puts full control right in the palm of your hand with the Sennheiser Smart Assist app. Take advantage of a remarkably fast automated setup, mobile access to every system setting and the added benefit of remote monitoring, all from the convenience of your Android or iOS device. Save time, save energy and perform with confidence.
EW-D EM rack receiver
EW-D SK bodypack transmitter
ME 3 headset microphone (cardioid)
2 rod antennas
power supply with country adapters
rackmount set
4 rubber feet
quick guide
safety guide
manufacturer declaration sheet
Digital transmission operating in the UHF spectrum greatly enhances range, reliability and scalability
Smart Assist App connects via Bluetooth Low Energy for a streamlined setup and operation at a distance

Auto scan creates reliable connections with minimal time and effort

134 dB audio input dynamic range eliminates need for sensitivity adjustments and preserves every detail

Elimination of intermodulation enables channels to be placed in an equidistant tuning grid 600 kHz apart

56 MHz of tuning bandwidth and equidistant spacing enables up to 90 channels

2,240 selectable frequencies allow for fine tuning

Lithium-Ion battery pack (sold separately) delivers up to 12 hours of operation (up to 8 hours of operation with 2x provided AA batteries)

THD, total harmonic distortion ≤ -60 dB for 1 kHz @ -3 dBfs input level
Operating temperature -10 °C - +55 °C (14 °F - 131 °F)
Audio frequency response 20 Hz - 20 kHz (-3 dB) @ 3 dBfs
Operating relative humidity 5 - 95 % (non-condensing)
EW-D EM

Dimensions 212 x 44 x 189 mm
Weight approx. 1000 g (without antennas and power supply)
Current consumption ≤ 300 mA
Input voltage range 11 - 13 V ⎓
Audio output level 18 dBu max.
Transmission power BLE: max. 10 mW EIRP

ME 3

Connector 3.5 mm jack
Frequency response 50 to 18,000 Hz
Max. sound pressure level 150 dB
Cable length approx. 1.60 m
Pick-up pattern cardioid
Sensitivity in free field, no load (1kHz) 1.6 mV/Pa
Transducer principle pre-polarized condensor microphone

EW-D SK

Dimensions 63 x 80 x 20 mm (without antenna)
Weight approx. 120 g
Power supply


2 AA batteries 1.5 V (alkaline manganese)
or BA 70 rechargeable battery pack

Current consumption < 300 mA
Input voltage range 2.0 - 4.35 V
Transmission power


Audio link: 10 mW
ERP (Range Y1-3): 12 mW ERP
BLE: max. 10 mW EIRP