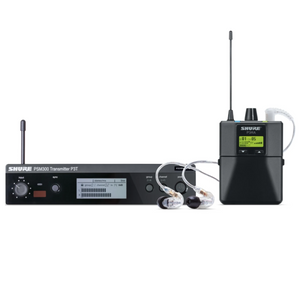 Description

Features

PSM300 Personal Monitor System

Specs
P3TRA215CL features SE215 Sound Isolating™ Earphones, all-metal components with optional receiver rechargeability, and more advanced receiver controls.
PSM®300 Stereo Personal Monitor Systems deliver reliable wireless freedom to every corner of the stage. Patented Audio Reference Companding ensures the clearest sound, with ultra-low noise and no artifacts.

Easy to setup and operate, PSM 300 systems offer one-touch frequency scan and sync to find and assign a clean wireless channel. Adjust the volume and use MixMode® technology or stereo mode to create a personal mix from two channels of audio.
Send two channels of audio wirelessly to performers onstage
24-bit digital audio provides clear, detailed sound
Patented Audio Reference Companding sounds more like wired
Up to 90 dB signal-to-noise ratio
Exceptionally wide stereo separation
Solid analog RF connection over a 300 ft (90 m) range
Create a personal mix from the bodypack with MixMode® technology or stereo mode
Frequency scan and IR sync quickly finds and assigns a clean channel
Half-rack, single channel transmitter with included rack mount kit
P3R bodypack systems available with SE112 Sound Isolating™ Earphones
P3RA professional bodypack systems available with SE215 Sound Isolating™ Earphones
PSM300 Personal Monitor System
Free your performance from wires and wedges. From any position, on any stage, hear every note in detailed, 24-bit digital audio.
P3T Wireless Transmitter

Sends a stereo or mono mix wirelessly to performers onstage
Detailed, 24-bit digital audio
Rock-solid analog wireless connection over a 90 meter range
One-touch IR sync instantly links transmitter to bodypack receiver
High-contrast LCD screen with audio metering
Selectable line/aux level
¼" (6.3 mm) TRS balanced inputs and loop outputs
Detachable ¼ wave antenna
Rack hardware kit included

P3R Wireless Bodypack Receiver

Use MixMode® or stereo mode to create a personal 2 channel mix
Easy-to-adjust volume and mix controls
Scan function quickly finds an open frequency
Over 90dB of dynamic range for precise, low-noise audio
Up to 7 hours continuous use from 2 AA batteries
Slim, lightweight bodypack attaches easily to belt or guitar strap
RF Carrier Range 488–937.5 MHz (Varies by region, see frequency range and output power table)
Compatible Frequencies Per band up to 15
Tuning Bandwidth 24 MHz maximum (Note: varies by region)
Operating Range Environment dependent 90 m (300 ft)
Audio Frequency Response 38 Hz–15 kHz
Signal-to-Noise Ratio A-weighted 90 dB (typical)
Total Harmonic Distortion ref. ±34 kHz deviation @1 kHz <0.5% (typical)
Companding Patented Shure Audio Reference Companding
Spurious Rejection ref. 12 dB SINAD >80 dB (typical)
Frequency Stability ±2.5 ppm
MPX Pilot Tone 19 kHz (±1 Hz)
Modulation FM*, MPX Stereo (ref. ±34 kHz deviation @ 1 kHz)
Operating Temperature -18 °C (0 °F) to +63 °C (145 °F)