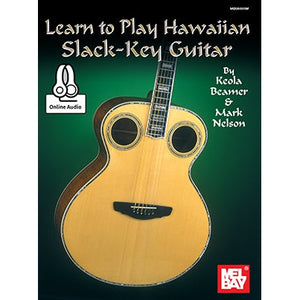 Hawaiian slack key guitar (Ki Ho'alu) is one of the world's great acoustic guitar traditions. This tradition includes virtuoso guitar pieces, but the majority of songs played slack key are classic Hawaiian melodies either played as instrumentals or as accompaniment to vocals with instrumental breaks between the verses. The term "slack key" does not refer to a type of guitar, but rather to any guitar played in the slack key style, that is, in alternate tunings with "slacked" strings and fingerstyle technique. Acknowledged slack key master Keola Beamer is a member of a family known for its musical artistry for generations. We are fortunate to have him writing in conjunction with veteran Mel Bay author, educator and multi-instrumentalist Mark Nelson, who simply followed his love of the music to the Islands. Written in standard notation and tablature to accommodate numerous alternate tunings, this book is presented in four sections:

The most common tuning introduced by fairly easy songs
Illustrations of how to build your own arrangements

A presentation of various slack key tunings

A selection of duets in the slack key style.
Historical and cultural insights are offered throughout in the spirit of aloha, producing an informative, musically enlightening book with soul and humor. Includes access to online audio featuring tuning tracks and informal introductions of the audio content by the authors, plus some beautiful slack key music.  
Product Number:96695M
Format:Book + Online Audio
Skill Level:Beginning-Intermediate
Notation Type:Standard Notation and Tab
Pages:160
Binding:Perfect Binding
Size:8.75 x 11.75
ISBN:078668772X
ISBN13:978-07866-8772-5
Publisher:Mel Bay Publications, Inc.
Date Published:4/24/2015
'Alekoki
'Ulili E
Ahi Wela
Akaka Falls
Aunty Alice Namakelua Slack Key
Hame Pila
Hi'ilawe
Hilo March
Hula O Makee
Isalei
Ka Makani 'Olu'olu
Kahuli Aku
Keolaokalani
Ki Ho'alu
Ki Ho'alu Mischief
Kuwili
Lei 'Ohu
Maika'i Ka Makani O Kohala
Matt's Bounce
Pa'ahana
Playful Popoki
Pu'u O Hulu
Pupu O 'Ewa
Sase
Sweet Leilehua
Tiare Tahiti
Ua Like No A Like
Wehiwehi 'Oe