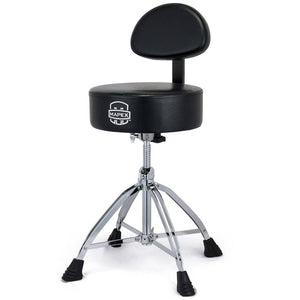 Description

Features

Specs
With its 14" x 4" round cushioned top and adjustable back rest, the T870 throne is the ultimate in support and comfort. The steel spindle height adjustment with Spindle Lock and the addition of a 4th oversize double-braced leg make this throne both user-friendly and extremely stable, providing a solid foundation from which to lay down some big beats.
The larger size and added cushioning of the 14" x 4" round seat provides increased comfort while the adjustable back rest provides needed support for the spine.
A simple and strong clamp-mount ensures an ultra-secure seat to spindle connection
The 20" to 26" height range with steel spindle adjustment and Spindle Lock is ideal for advanced players that will often make frequent minor adjustments to their throne height.
The double-braced legs with Extra Large Slip-Proof Feet provide durability and stability.
14" x 4" Thick Round Top Cushioned Seat
Soft Vinyl Covering and Adjustable Back Rest
Ultra-Secure Clamp Mount
20" to 26" Threaded Steel Spindle Height Adjustment with Spindle Lock
Double-Braced Quad Legs w/extra large slip-proof feet