SONICALLY CAPTIVATING. VERSATILITY DEFINED.
Classic Maple series drums have been the professional choice for over 20 years. Its full tonality, rich sustain, and exceptional versatility has made these drums the premier choice for any performance application. Utilizing a process refined through over a century of drum making, Classic Maple drums preserve the signature Ludwig sound with optimal performance. Select from a range of popular Standard Outfits or custom tailor your kit through The Ludwig Outfitter. Hand-crafted at Ludwig USA in Monroe, NC.
MOD Outfit:
18X22 Bass Drum

16X16 Floor Tom

9X12 Tom Tom

8X10 Tom Tom
 *Note Cymbal stands, hi-hat stand, snare drum, snare stand, bass drum pedal, cymbals and throne are not included. 
Shell
Classic Maple's standard 7-ply, 6mm shell is formulated for optimum resonance and tonality. Its center three-ply core panel (laminated in a horizontal/vertical/horizontal grain bond to a 2.4mm thickness,) is inserted between inner and outer two-ply panels through our proprietary RFST molding process.
To increase stability through out the drum, all Ludwig USA shells are produced using Radio Frequency Shell Technology. Using a process involving our historic bladder molds that date back to the late 1960's, R.F.S.T.'s unique bonding system -combined with a specialized, time-tested adhesive- cures each shell evenly over the entire surface of the shell. This process is truly a principal ingredient in creating the "Ludwig Sound" in every shell we make.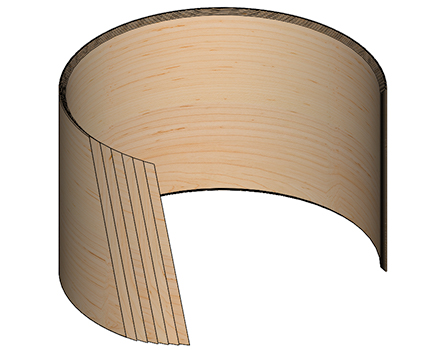 Bearing Edge
Each drum's bearing edge is cut to a 45-degree angle within 1/16" from the outside edge. This profile is critical for a wide tuning range, and maximum sustain. The edge is hand-sanded to the craftsman's touch to assure a smooth, even, flat surface for easy head seating; the final touch to complete the unmistakable Ludwig Sound.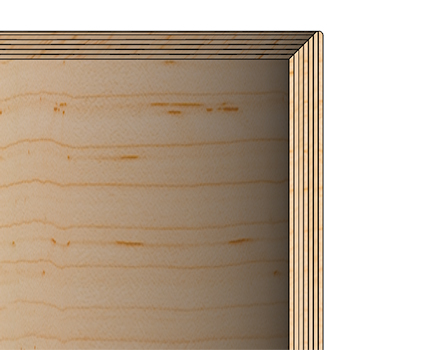 Sonic Grid
Bright attack with maximum sustain for exceptional adaptability. Classic Maple is ideal for any performance setting. Its versatility makes it the best "all-purpose" drum set for today's professional settings.