Description

More

Features

Specs

Studio Accessories
Welcome to an infinitely expanding world of sound-design.
Joining volca kick and beats as the third, and most unique, drum synth in the volca lineup.
The volca series is all about unique sound. Whether it's analog, PCM, or FM, the volca series puts unique sounds into an accessible platform. And now, the series is joined by a new rhythm machine that brings yet another sonic character. It's the volca drum digital percussion synthesizer.
Based on a simple trigger waveform, wave folder and overdrive are used to add overtones and distortion, and then a waveguide resonator effect brings the sound to life. The six-part DSP synth engine was designed with a completely different philosophy than conventional drum machines, and generates a wide range of unexpectedly different sounds. And of course, you can play those sounds from the volca-style sequencer.

Adding these distinctive sounds to your rhythms will revolutionarily transform your performances and productions.
Digital percussion synth with a 6-part x 2-layer structure
The term "digital" typically brings to mind sounds that are based on PCM-sampled bass drum, snare drum, or cymbal, but the volca drum creates its drum sounds by DSP-powered analog modeling. Oscillator waveforms such as sine wave, sawtooth wave, and noise are provided. By applying various changes to these waveforms, you can create a wide variety of percussion sounds that range from realistic to idiosyncratic, and are not limited only to drums.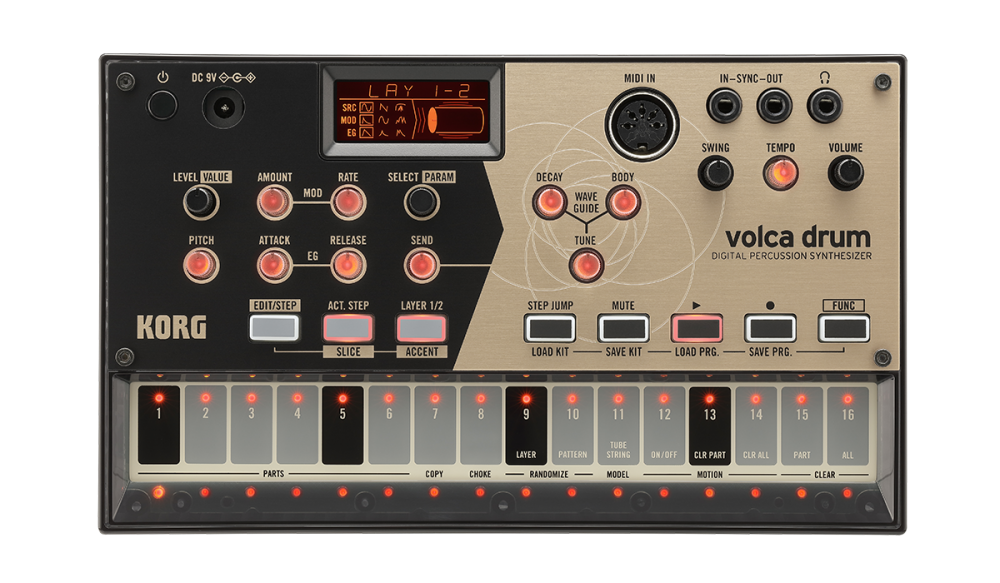 Distinctive sound from a newly developed DSP engine
Each part consists of two layers. For each layer, users choose one of five types of oscillator waveform including sine wave, sawtooth wave, and HPF noise, and also choose from three types of pitch modulator and amp EG, each optimized for drum sounds. Layer parameters can be edited either individually or simultaneously, and users can also use the two layers to produce the same sound for additional thickness.
Waveguide resonator adds rich resonances
The effect section features a waveguide resonator that's based on physical modeling, and which adds sympathetic resonances to the sound. You can choose from two types of waveguide: "tube" which adds the resonance of a cylindrical object such as a drum body or a long pipe, or "strings" which adds the metallic resonance of a string. The three knobs located in the center of the panel let you specify the DECAY (amount of attenuation), BODY (sonic character), and TUNE (pitch). Setting TUNE to a lower value will produce a delay-like behavior. You can take advantage of these knobs not only for sound design but also in your live performances.
16-step sequencer with a wide range of parameter automation
The 16-step sequencer is excellent for improvisation. You can easily create patterns using the 16 buttons, each corresponding to one of the 16 steps. In addition to step recording, the sequencer also supports realtime recording in which you can construct a pattern while looping the playback. The pattern chain function lets you play multiple sequence patterns successively, so you can successively play back desired patterns of consecutive numbers. Up to 16 sequences can be connected to construct patterns with 256 steps.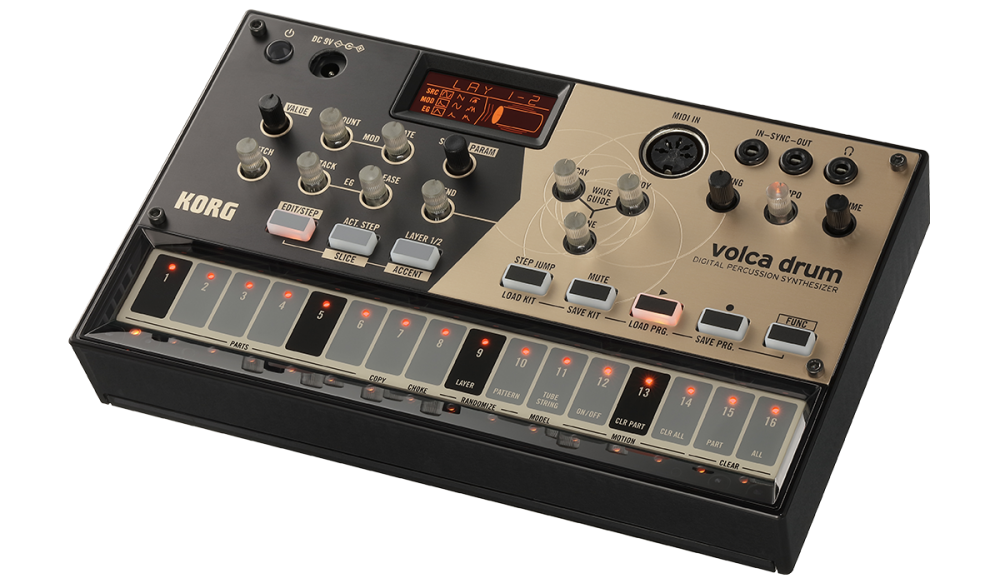 ACTIVE STEP lets you replace steps for each part
There's an active step function that lets you skip steps during sequence playback. This can be used to create "short loop" effects and irregular rhythms, or you can even create polyrhythms by using different settings for each part. Also provided is a step jump function, which jumps to the step of the button that you press during sequence playback.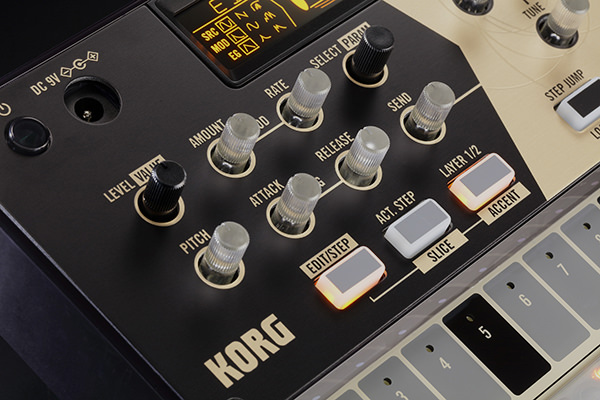 Keyboard Multi touch trigger pads / Step keys
Synthesizer

Type Digital synthesis
Maximum Polyphony 6
Structure 6 parts (For each part, 2 oscillators, pitch modulator, and amp EG), waveguide resonator effect.
Kits 16 (Settings for 6 parts + Settings for waveguide resonator) Kit No.1 – No.10 are factory preset.
Program 16 (Sequence pattern, Motion sequence, Kit No.) Program No.1 – No. 10 are factory preset.

Sequencer

Number of parts 6
Number of steps 16 (pattern chain is available)
Number of recording patterns 16

Connectors

Audio Output Headphones jack (3.5mm stereo mini jack)
Sync Sync In jack (3.5mm monaural mini jack, Maximum input level: 20V)
Sync Out jack (3.5mm monaural mini jack, Maximum Output level: 5V)
MIDI MIDI IN

Power

Battery Life Approximately 10 hours (using alkaline batteries)
Power supply AA alkaline battery × 6, AA nickel-metal hydride battery × 6, or KA-350 AC adapter (sold separately)

Others

Included Items AA alkaline battery × 6 (for verifying operation), Sync cable
Accessories (sold separately)
KA-350 AC adapter, SEQUENZ CB-4VOLCA hard shell case, SEQUENZ CC-VOLCA soft shell case, SQ-CABLE-6 Sync cable
Dimensions (W x D x H) 193 × 115 × 39 mm / 7.61 x 4.54 x 1.54 inches
Weigh Weigh: 370 g / 0.75 lbs. (Excluding batteries)