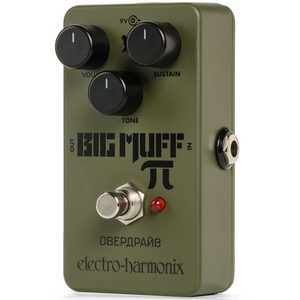 Description

Specs

Controls

Pedal Accessories
Back by overwhelming demand... in a mini package! The cult classic Green Russian Big Muff first shook the ground in the mid-1990s. Since then it has been heralded by guitarists and bassists for its devastating low-end and unique sludge and sizzle. The Green Russian Big Muff creates a huge tone that is all its own, but is undeniably Big Muff.
A faithful reissue of the legendary Green Russian Big Muff from the mid 1990s
Revered by guitarists and bassists
Vintage-correct army green chassis
Controls for Tone, Sustain and Volume
Compact and pedalboard friendly
True Bypass for maximum signal path integrity in bypass mode.
9-Volt battery included, also accepts optional EHX 9.6VDC-200mA power supply.  The Green Russian Big Muff Pi may be powered from a 9V battery or an optional 9VDC AC Adapter such as the EHX9.6DC-200 or any Boss® or Ibanez® style AC adapters capable of delivering at least 30mA. Plug the output of the adapter into the 9V power jack located at the top of the pedal. The battery may be left in or taken out when using an AC Adapter. The current draw is approximately 2.2mA at 9VDC.
Current Draw: 2.2mA @ 9VDC
Dimensions in inches: 2.75(w) x 4.5(l) x 2(h)
Dimensions in mm: 70(w) x 115(l) x 51(h)
VOLUME Knob: Use the VOLUME knob to set the output level.
TONE Knob: Adjust the TONE knob to explore a range of sounds from high treble to deep bass. Turn the knob clockwise to increase treble and decrease bass. Turn the knob counterclockwise to increase bass and decrease treble.
SUSTAIN Knob: The SUSTAIN knob adjusts the amount of sustain and distortion. Footswitch & Status LED Use the footswitch to toggle between effect and bypass. The Green Russian Big Muff is active when the LED is lit. When the LED is off, the pedal is in true bypass mode.
IN Jack: Plug the output of your instrument or another effects pedal into the ¼" IN jack. The input impedance presented at this jack is 130kΩ.
OUT Jack: Connect the Green Russian Big Muff's ¼" OUT jack to the input of your amplifier or another effects pedal. When the Green Russian Big Muff is in bypass mode, the OUT jack is connected directly to the IN jack. The output impedance is nominally 25kΩ.