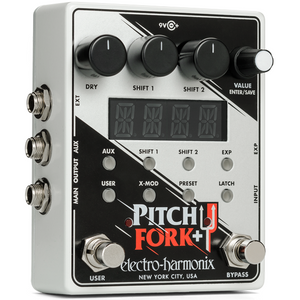 Description

More

Features

Controls

Pedal Accessories
The Pitch Fork®+ features two independent pitch shifting engines with full control over each. Both will transpose your pitch up or down over a +/- three octave range and detune +/-99 cents. With rock solid tracking, an organic, musical tone and extensive control, it's your ultimate harmonizer.

The controls are straightforward and intuitive. An 11-position Shift switch selects the maximum transposition interval ranging from D (Detune), a shift of 17 cents, through Minor 2nd, Major 2nd, Major 3rd, Perfect 4th, Perfect 5th, Major 6th, Minor 7th, 1 Octave, 2 Octaves and 3 Octaves. A three position toggle switch controls whether the pitch is transposed up, down or both. In Dual mode, two pitch-shifted signals are output. One follows the shift knob as if in the Up position while the other creates a harmony. Dual Mode settings include M3 up + P5 up, P5 up + 1 Oct down, 1 Oct up + 1 Oct down and many others. A Blend knob controls the mix of the dry signal and the effected signal, and an EXP jack enables the player to control pitch and glissando with an expression pedal.
Dedicated volume controls for both Shift voices and the Dry signal.
Two outputs, Main and Aux, with multiple routing options.
10 unique factory presets plus the ability to easily save/recall 100 programs.
A Bypass footswitch that toggles between effect on and buffered bypass. In latch mode it switches between effect and bypass mode. In Momentary mode the effect is on when the FS is held down and the pedal enters bypass when it's released.
A User footswitch that's programmable and can be assigned to a variety of functions such as muting either Shift voice or jumping to a preset program. It features a dedicated LED.
An EXP input for EXP or CV control over a broad selection of parameters in three sub-menus: Frequency, Glissando and Volume.
An EXT input for connecting an external foot controller like EHX's Triple Foot Controller which enables players to change modes, enter/exit sub-menus and load presets.
Eight modes, including X-MOD, which features cross-modulation that creates FM and ring mod type effects, LATCH, based on the original Pitch Fork, but with enhancements to the Momentary mode functionality.
The Pitch Fork®+ comes equipped with a standard EHX 9.6DC200mA power supply
DRY Knob – Controls the volume level of the DRY signal.
SHIFT 1 Knob – Controls the effect volume level of SHIFT 1.

SHIFT 2 Knob – Controls the effect volume level of SHIFT 2.

VALUE Knob – VALUE is a rotary encoder that can rotate continuously in either direction, and be pushed like a button. VALUE will adjust the selected mode parameter, enter sub-menus, or save presets to memory. A press of VALUE enters sub-menus when applicable. Holding VALUE when in PRESET mode saves a preset.

4-Character Display – The 4-character display shows the current parameter value or menu setting for the selected mode. The display shows which option is selected within a mode menu or sub-menu.

When there is a dot in the lower right corner of the display, for example "FREQ.", this signifies there is a sub-menu that can be entered. Enter a sub-menu by pressing VALUE or a double-tap of the MODE (Tip) FSW on an external foot-controller.

BYPASS Footswitch and LED – The BYPASS footswitch toggles between effect on and buffered bypass. In latch mode, each press and release of the footswitch toggles between effect and bypass modes. In Momentary mode, when the footswitch is held down, the glissando effect is on, when the footswitch is released, the PITCH FORK®+ enters bypass. The status LED lights when in effect mode or when glissando is active.

USER Footswitch and LED – The USER footswitch's function is programmable when the USER mode button is selected. The USER footswitch works independently from the BYPASS footswitch and has its own status LED. When the LED is lit, an effect or feature is enabled. When the USER footswitch LED is off, then the effect or feature is disabled or not in use.