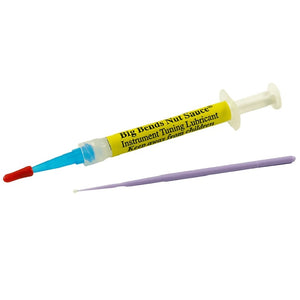 Big Bends Nut Sauce is truly a "Guitar Tech in a tube"! Nut Sauce instantly ends tuning and string breakage problems. There is no lubricant with a lower co-efficiency of friction than Nut Sauce - That means there is nothing better at reducing the friction that causes string breakage and pitch-drift! Nut Sauce will also end all negative stresses behind the nut and bridge, this means harmonics will ring clearer, sustain will increase and overall playability will improve. Nut Sauce also ends wear and tear at the bridge and nut "stop the friction and stop the wear and tear".
The Lil-Luber applicator comes filled with enough Nut Sauce to treat 50 string changes (0.5cc)
Big Bends Lil-Luber Features
Nut Sauce ends Pitch Drift!
Nut Sauce ends String Breakage Problems!
Nut Sauce Stops Wear & Tear at Bridge and Nut!
Nut Sauce Increases Sustain and Harmonics!
Nut Sauce Improves Overall Performance of ALL Stringed Instruments!
Nut Sauce Stabilizes Tuning
Nut Sauce Stops String Breakage
Nut Sauce is Non Toxic & Non Corrosive
Surgical applicator included
Condition: This unit is brand new, fresh from the factory. You're purchasing from an authorized Big Bends dealer.