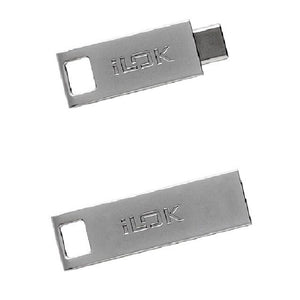 Description

Features

Specs

Studio Accessories
Smaller. Faster. Better.
Authorize your software* with the mightiest and smallest device yet. The all-new iLok (third generation) holds up to 1,500 authorizations—3x more than before—and delivers twice the transfer speed of the iLok 2. Plus, it's sleeker, smaller, and more secure, with a full metal jacket (made from durable aluminum) that won't split or crack from normal use. Whether you're purchasing your first or want to consolidate licenses from older keys, iLok makes it easy to take all of your software authorizations with you, wherever you go.

Please note: This iLok does not come with any pre-authorized licenses, software, or plugins. If you have products that use the old-style PACE license cards, you will need to use the original iLok USB Key.
* An iLok is not required to use with Pro Tools | First, Pro Tools, Pro Tools | Ultimate, Avid VENUE, and all "retail" Avid and third-party audio plugins. iLoks are needed to authorize these versions of Pro Tools software without an internet connection.

Store up to 1,500 software and plugin authorizations on a single iLok
Get better security with the robust aluminum casing and ultra-strong security loop
Save space with the smaller, slimmer design—now just 1.5 x .5 inches (3.8 x 1.3 cm)
Add and transfer licenses with a simple drag and drop using iLok License Manager
Easily move software authorizations from one computer to another
Verify that your iLok is connected through the glowing blue indicator light
Never have to reauthorize software due to hardware or software upgrades or crashes
Get backward compatibility with all iLok 2-compatible software
SYSTEM REQUIREMENTS

Computer running Mac OS X 10.7 or higher, or Windows 7 or higher, to use iLok License Manager
Available USB-A or USB-C port
iLok account (create a free account)
License(s) for the iLok-protected software you want to use
Software that is iLok-protected

WHAT'S IN THE BOX?

iLok (third generation) - choose the USB-A or USB-C version depending on your computer