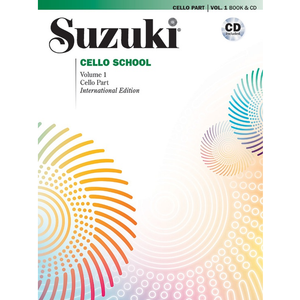 Teach cello with the popular Suzuki Cello School. The Suzuki Method® of Talent Education is based on Shinichi Suzuki's view that every child is born with ability, and that people are the product of their environment. According to Shinichi Suzuki, a world-renowned violinist and teacher, the greatest joy an adult can know comes from developing a child's potential so he/she can express all that is harmonious and best in human beings. Students are taught using the "mother-tongue" approach. Each series of books for a particular instrument in the Suzuki Method is considered a Suzuki music school, such as the Suzuki Cello School. Suzuki lessons are generally given in a private studio setting with additional group lessons. The student listens to the recordings and works with their Suzuki cello teacher to develop their potential as a musician and as a person.

This Suzuki Book & CD is integral for Suzuki cello lessons. The CD features recordings by Tsuyoshi Tsutsumi including piano accompaniments recorded with the cello part as well as piano accompaniments recorded alone.

Titles: Twinkle, Twinkle, Little Star Variations (Suzuki) * French Folk Song (Folk Song) * Lightly Row (Folk Song) * Song of the Wind (Folk Song) * Go Tell Aunt Rhody (Folk Song) * O Come, Little Children (Folk Song) * May Song (Folk Song) * Allegro (Suzuki) * Perpetual Motion in D Major (Suzuki) * Perpetual Motion in G Major (Suzuki) * Long, Long Ago (Bayly) * Allegretto (Suzuki) * Andantino (Suzuki) * Rigadoon (Purcell) * Etude (Suzuki) * The Happy Farmer from Album for the Young, Op. 68, No. 10 (Schumann) * Minuet in C, No. 11 in G Major from Notebook for Anna Magdalena Bach, BWV 841 (Bach) * Minuet No. 2 from Minuet in G Major, BWV 116 (Bach).
Series: Suzuki Cello School
Instrument: Cello
Format: Book & CD
Page Count: 24
Item Number: 00-40697
ISBN 10: 0-7390-9709-1
ISBN 13: 978-0-7390-9709-0
UPC: 038081461557