Description

Features

Specs

PA Mixers Accessories
The Zoom LiveTrak™ L-20R is a rack-mountable digital mixer that allows musicians to control their live mix right from the stage with the use of an iPad. With wireless control, 20 discrete channels, 22 tracks of recording and six custom monitor mixes, the L-20R offers a complete solution for any venue
CHANNEL STRIP (A)
The 16 mono inputs include single-knob compression and gain control. At -128 dBu EIN with +60 dB maximum input gain, the L-20R is equipped with our quietest and most advanced preamps.

NAVIGATION AND DISPLAY (B)
An encoder knob and bright, backlit LCD screen let you access an intuitive menu to create new projects, recall previous projects, and customize your recorder settings.

BLUETOOTH ADAPTER (C)
The included BTA-1 connects a master iPad to the L-20R. Other iPads connect to the master via wifi.

TRANSPORT CONTROLS AND OVERDUB (D)
Transport controls include Record, Play/Pause, and Stop. The overdub feature allows you to record additional tracks to your current project.

SIX CUSTOM MONITOR MIXES (E)
"Master" and "Headphone" options allow you to design custom mixes for both the master and monitor outs. For each output, easily switch between a powerful headphone output and a balanced line output for in-ear and stage monitors.

HEADPHONE OUTPUT FOR FOH (F)
A dedicated headphone output for front-of-house enables the engineer to monitor any of the custom sub mixes as well as the master mix or soloed tracks.

USB PORT (G)
The L-20R features USB connectivity for transferring files or use as an audio interface.

SD CARD (H)
Record up to 512GB of audio to an SD card.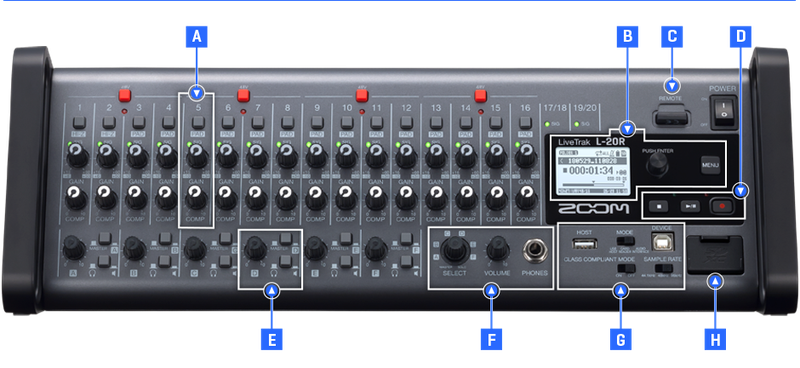 NUMBER OF INPUT AND OUTPUT CHANNELS

INPUTS Mono (MIC/LINE): 16 | Stereo (LINE): 2
OUTPUTS MASTER OUT: 1 | MONITOR OUT: 6 | PHONES : 1

INPUTS 1-16


MONO (MIC/LINE)

Type: XLR/TRS combo jacks (XLR: 2 HOT, TRS: TIP HOT)
Input gain | PAD OFF: +16 – +60dB | PAD ON: − 10 – +34 dB | Hi-Z ON: +6 – +50 dB
Input impedance | XLR: 3 k Ω | TRS: 10 k Ω /1 M Ω (when Hi-Z ON)
Maximum input level | PAD OFF: 0 dBu (at 0 dBFS) | PAD ON: +26 dBu (at 0 dBFS)
Phantom power | +48 V

STEREO (LINE) Type: TS phone/RCA pin (unbalanced) jacks Maximum input level : +10 dBu

OUTPUTS


MASTER OUT Type: XLR jacks (balanced) | Maximum output level :+14.5 dBu | Output impedance: 100 Ω
MONITOR OUT A–F (WITH BALANCED OUTPUT) CONNECTED TO MONITOR SPEAKERS Type: TRS phone jacks (balanced) | Maximum output level: +14.5 dBu |Output impedance: 100 Ω
MONITOR OUT A– F (WITH UNBALANCED OUTPUT) CONNECTED TO HEADPHONES Type: Standard stereo phone jacks | Maximum output level: 42 mW + 42 mW at 60 Ω | Output impedance: 100 Ω
PHONES Type: Standard stereo phone jacks | Maximum output level: 42 mW + 42 mW at 60 Ω | Output impedance: 100 Ω

BUSES


MASTER 1
MONITOR 6
SEND EFX 2

CHANNEL STRIP


COMP

LOW CUT 40–600 Hz, 12dB/OCT
EQ HIGH: 10 kHz, ± 15 dB, shelving | MID: 100 Hz – 8 kHz, ± 15 dB, peaking | LOW: 100 Hz, ± 15 dB, shelving

LEVEL METERS

SEND EFFECTS


EFFECTS | 20 TYPES

EFX 1 Hall 1 (Reverb) ,Hall 2 (Reverb), Room 1 (Reverb), Plate (Reverb), Church (Reverb), DrumAmb (Reverb), GateRev (Reverb) ,Vocal 1 (Delay + Hall Reverb), Vocal 2 (Delay + Mono Reverb), Vocal 3 (Delay + Plate Reverb)
EFX 2 Hall 3 (Reverb), Room 2 (Reverb) , Spring (Reverb), Delay (Delay), Analog (Delay), P-P Dly (Delay), Vocal 4 (Delay + Room Reverb), Chorus 1 (Stereo Chorus), Chorus 2 (Mono Chorus), Cho+Dly (Chorus + Delay)

RECORDER


MAXIMUM SIMULTANEOUS RECORDING TRACKS 22 at 44.1/48/96 kHz
MAXIMUM SIMULTANEOUS PLAYBACK TRACKS 20
RECORDING FORMAT & SAMPLE RATES WAV 44.1/48/96 kHz, 16/24-bit, mono/stereo
RECORDING MEDIA 4 GB – 32 GB SDHC cards (Class 10 or higher) | 64 GB – 512 GB SDXC cards (Class 10 or higher)

AUDIO INTERFACE


44.1/48 KHZ Recording: 22 channels | Playback: 4 channels
BIT DEPTH 24-bit
INTERFACE USB 2.0

SYSTEM REQUIREMENTS FOR AUDIO INTERFACE MODE


WINDOWS OS: Windows® 8.1 / 10 / 11 (32bit/64bit) | CPU: Intel® Core i3 or faster *USB: USB 3.0/USB 2.0** * Operation is not guaranteed with CPUs from Atom, Celeron or Pentium series or CPUs made by AMD. ** Only USB host controllers with Intel Chipsets are supported. Operation is not guaranteed when used with USB hubs or expansion cards.
MAC OS: macOS® 10.14 ~ 12 | CPU: Intel® Core i3 or faster USB: USB 3.0/USB 2.0* * Operation is not guaranteed when used with USB hubs or expansion cards.
IPHONE/IPAD OS: iOS 9 ~ 15 * Apple Lightning-to-USB Camera Adapter required.

CARD READER

USB HOST


CLASS USB 2.0 High Speed
SAMPLING FREQUENCY 44.1/48/96 kHz
FREQUENCY CHARACTERISTICS 44.1 kHz: −1.0 dB, 20 Hz – 20 kHz 96 kHz: −3.0 dB, 20 Hz – 40 kHz

Additional Specs
EQUIVALENT INPUT NOISE Actual measurements: −128dB EIN (IHF-A) at +60dB/150Ω input

DISPLAY LCD with backlight (128×64 resolution)

POWER AD-19 AC adapter (DC12V 2A)

POWER CONSUMPTION 24 W maximum

EXTERNAL DIMENSIONS 438 mm (W) × 158.2 mm (D) × 151.7 mm (H)

WEIGHT (MAIN UNIT ONLY) 2.49 kg