Description

More

Included

Features

Specs

Studio Accessories
RECORDERS CAPTURE AUDIO H3-VR CAPTURES REALITY
Whether you're a game developer, filmmaker or musician, virtual reality is the undeniable future of content creation. While 360-video is exploding in popularity, the ability to easily create 360-audio has lagged behind…until now.
This product listing is for just the Zoom H3-VR.  Please see the included tab for what this product comes with.  Stand, camera etc, are not included.
OUTPUT VOLUME CONTROLS (A)
The H3-VR's line out volume control lets you adjust the output volume to a DSLR camera, additional headphone, etc.

HEADPHONE JACK (B)
A dedicated headphone jack allows for stereo binaural monitoring of your audio while recording.


DYNAMIC DISPLAY (C)
A directionally-responsive LCD screen provides a bright, clear display even when upside-down.

TRANSPORT CONTROLS (D)
The Home, Play/Pause, Forward, Reverse and Menu buttons are positioned for quick access.

POWER/HOLD BUTTON (E)
Lock your settings on the H3-VR while recording using the unit's Hold function.

PRECISE INTERNAL CLOCK (F)
The H3-VR's highly accurate internal clock with 0.5 ppm discrepancy reduces audio/visual drift.

SLATE TONE/SOUND MARKER (G)
Using the slate tone enables you to easily calibrate the H3-VR and camera audio levels. Use the sound marker to output a tone when recording starts to make syncing audio and video easy.

BUILT-IN LIMITER (H)
The H3-VR's advanced onboard limiter offers distortion-free signal at high volumes.

LOW CUT FILTER (I)
The H3-VR's adjustable low cut filter removes unwanted low-end frequencies.

INPUT VOLUME GAIN (J)
With the single-knob gain control, you can easily adjust the gains of all four mic capsules simultaneously for accurate, balanced 360-degree audio.

POWER OPTIONS (K)
Two AA batteries can power the H3-VR for over 11 hours. For longer shoots, the H3-VR can also use portable USB batteries or be plugged in via an AC adapter.

3.5MM LINE OUT (L)
The H3-VR fits right in with your existing gear, featuring a dedicated line out for a wide range of 360 cameras or other external devices.

LIGHTWEIGHT/PORTABLE DESIGN (M)
Weighing less 5 ounces (120g), the H3-VR is the perfect Ambisonics recorder to take on the go. And since H3-VR records directly to an SD card, there's no need for external gear.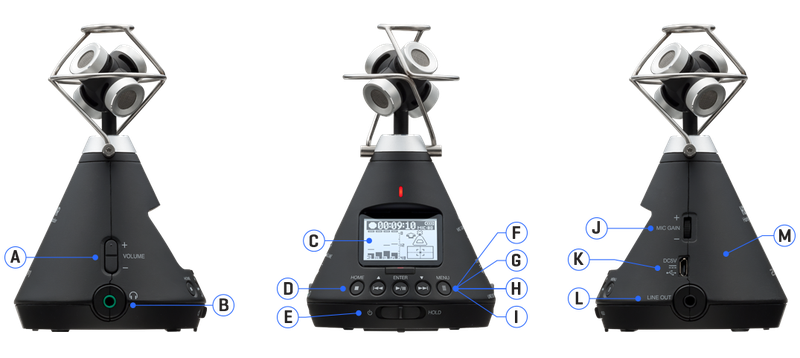 H3-VR Handy Recorder
Foam windscreen
Dual mounting bracket
AA batteries
4 built-in mics arranged in an Ambisonic array
Full-sphere surround sound recording
Single-knob gain control of all input levels
Onboard Ambisonics A to B decoding
Three recording modes: Ambisonics, Stereo Binaural or Standard Stereo
Record up to 24bit/96kHz
Stereo binaural monitoring of Ambisonics signal
Headphone output and line output
Slate tone
Extensive metadata
Auto Mic Position Detection using 6-axis gyroscope (upfront, endfire,
upside-down, endfire inverted)
Level Function to ensure precise angle placement
Wireless iOS remote control available through the BTA-1 Bluetooth adapter
Onboard Ambisonics playback with audio rotation
Accurate internal clock with .5ppm discrepancy
USB 2.0 Audio Interface Mode
Zoom PC/Mac post-production software to play, change a direction, and convert
to binaural, stereo,and 5.1ch surround file
Powered by 2 AA batteries or USB bus power
Records to SD card up to 512GB
RECORDING MEDIA:

Cards compatible with microSD/microSDHC/microSDXC specifications
(Class 4 or higher)

RECORDING FORMATS:

Ambisonics A, Ambisonics B (FuMa/AmbiX)
WAV 4ch poly (supports BWF and iXML): 44.1 kHz/16-bit, 44.1 kHz/24-bit, 48 kHz/16-bit, 48 kHz/24-bit, 96 kHz/16-bit, 96 kHz/24-bit
Stereo
WAV stereo (supports BWF and iXML): 44.1 kHz/16-bit, 44.1 kHz/24-bit, 48kHz/16-bit, 48 kHz/24-bit, 96 kHz/16-bit, 96 kHz/24-bit
Binaural
WAV stereo (supports BWF and iXML): 44.1 kHz/16-bit, 44.1 kHz/24-bit, 48kHz/16-bit, 48 kHz/24-bit

DISPLAY: 1.25" monochrome LCD (96×64)
MOTION SENSOR: 6 axes (3-axis gyro, 3-axis acceleration)
BUILT-IN AMBISONIC MIC:

4 matched unidirectional condenser mics
Maximum sound pressure input: 120 dB SPL
Mic gain: +18 – +48 dB

LINE OUT:

Connector: 3.5 mm stereo mini
Maximum output level: −10 dBu (1 kHz, 10 kΩ load)

PHONE OUT:

Connector: 3.5 mm stereo mini
Maximum output level: 20 mW + 20 mW (into 32Ω load)

USB:

Connector: microUSB
Mass storage operation
USB 2.0 High Speed
Audio interface operation
2 in/2 out (stereo/binaural input), USB 2.0 Full Speed
44.1 kHz/16-bit, 48 kHz/16-bit
4 in/2 out ( Ambisonics A/FuMa/AmbiX input), USB 2.0 High Speed
44.1 kHz/24-bit, 48 kHz/24-bit

POWER:

2 AA batteries (alkaline, rechargeable NiMH or lithium)
AC adapter (ZOOM AD-17): DC 5V/1A (supports USB bus power)

ESTIMATED CONTINUOUS RECORDING TIME USING BATTERIES:

48 kHz/24-bit, FuMa Rec Mode
Alkaline batteries: about 11.5 hours
NiMH batteries (1900 mAh): about 11.5 hours
Lithium batteries: about 24 hours
• The above values are approximate.
• Continuous battery operation times were determined using in-house testing methods. They will vary greatly according to use conditions.

EXTERNAL DIMENSIONS: 76 mm (W) × 78 mm (D) × 123 mm (H)
WEIGHT (MAIN UNIT ONLY): 120 g