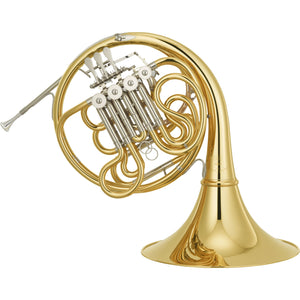 Description

Features

Specs
The YHR-671 is a traditional Geyer-style horn that shares the basic YHR-871 design. It offers the clear tone, deep resonance, and overall performance of a high-end instrument while being easy to play.

Wrap Style and Bell
An orthodox Geyer style wrap is used with a medium size bell and relatively thick rim wire. The tone is rich and deep with a solid core.
Leadpipe
A new leadpipe design in gold brass contributes to consistent tone and resistance throughout the instrument's range.
Tuning Slide and Valve Casing
The main tuning slide has a rounded shape that improves playing feel. The valve casing is made of Nickel silver, enhancing both the instrument's response and durability.
Adjustable 4th Rotor Thumb Lever
The 4th thumb lever can be adjusted for the most comfortable playing position.
Long Pull Ring
The Bb 2nd valve slide

 
Key:  F/Bb
Body:  Yellow brass
Bell Size:  M
Bell Type:  Detachable
Bore Size:  12.0mm (0.472")
Number of Valves:  4
Valve Rotors:  4
Lever Action:  String
Finish:  Clear Lacquer
Mouthpiece:  HR-32C4

Case:  Included