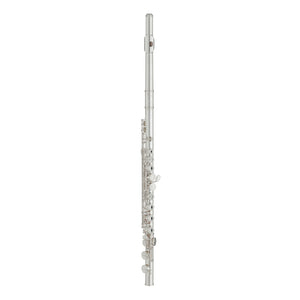 Yamaha Standard Flutes have become a favorite among teachers because of their open sound and easy playability. The headjoint, body, and footjoint are made of durable nickel-silver. Neoprene bumpers increase durability and achieve a maximum fit against the body. Recent improvements include a stronger post design to prevent bending of the posts, easily accessible adjustment screws, an improved adjustment screw material, and body markings for proper positioning of the footjoint.

CY Headjoint
Featuring a double flare taper and a unique embouchure hole undercut design for excellent response and a warm rich tone, the CY headjoint helps beginners quickly learn to produce a beautiful sound. More advanced players will appreciate its even, quick response in all registers.
Keys
All key shapes and placement have been ergonomically designed for a comfortable, natural-feeling performance. Manufacturing processes have been redesigned from the ground up to achieve substantially improved precision that not only leads to greater mechanical accuracy but also minimizes the need for readjustment over time.
Pointed Key Arms
A#, F#, and other non-fingered keys feature pointed key arms. This beautiful key design is inspired by the traditional European style.
Adjustment Screws
Yamaha's unique screw resistance inserts allow smooth adjustments while preventing gradual loosing of the screws. For easier access, the screw positioning has been changed.
Material:  Nickel Silver
Keys:  Closed Hole, Offset G
Footjoint:  C-Foot
Toneholes:  Drawn and Curled
Case:  Included