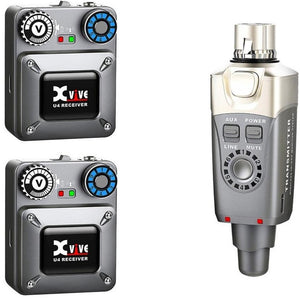 Description

Features

Specs
Build your wireless In-ear monitor system
The U4 personal wireless monitoring system delivers great sounding audio to your favorite in-ear monitors. Enhance your stage performance with freedom from wires with U4's easy to use and portable plug-and-play design. Built using the highest quality components housed in a durable metal chassis ensures reliable wireless performance at every show.
THIS SYSTEM COMES WITH 1 TRANSMITTER AND TWO RECEIVERS
ALL WIRELESS PLUG-AND-PLAY
Easy to carry, easy to set up, plug in and turn on the power to build your wireless In-ear monitor system
Input Mode

LINE MODE Use with mixers or other professional audio devices that send line-level signals.
AUX MODE Use when connecting consumer audio devices such as portable audio players or computers.

POWERFUL HEADPHONE DRIVE
Provides smooth frequency response with any headphones.
LIVE PERFORMANCE MONITOR
Transmitter with the 1/4"ts conversion put in to the mixing Aux channel, set transmitter to aux mode. Or Transmitter put in the mixing XLR main output, for Band playing, silent rehearsal etc.. set transmitter to Line mode.
MULTIPLE RECEIVERS
Use one transmitter to send signal to Multiple Receivers- creates monitoring for the entire band. Send the signal from one transmitter to as many receivers as needed simultaneously, Simply set as many receivers as needed to the same channel as the transmitter. OR - In situations where multiple "mixes" are needed on stage, each unit has 6 select-able channels for creating up to 6 individual discrete mixes. If you use more than one transmitter, The receiver can switch between different sound sources by simply changing the channel selector
Wireless Type 2.4GHz band is optimal for wireless, Approved for use worldwide.
Musical applications Works with any audio mixer or other gear with a line level balanced or unbalance audio output. Great for live performance, studio recording and rehearsals.
Other applications Theatre, House of Worship, Schools, Corporate Presentations
Audio Frequency Response20Hz – 20KHz (-3dB)
Working Range 90ft.Actual range depends on RF signal absorption, reflection and interference.
Sampling Rate High Resolution 24-bit/48kbps audio
Dynamic Range 107dB
Signal-To-Noise Ratio Up to 107 dB signal-to-noise ratio provides clear, detailed audio at any volume.
Battery Life Up to 5 hours
Delay time 5ms Latency, Simultaneous broadcasts on 6 channels
Input Mono balanced XLR or mono unbalanced 1/4"TS input with supplied adaptor
Headphone type Provides smooth frequency response with any headphones with 3.5mm