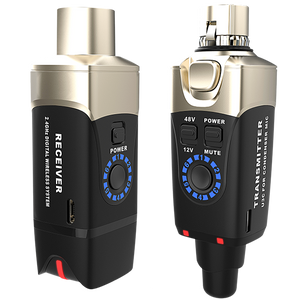 Description

Features

Specs
Makes any your favorite condenser microphone into wireless
It has the same high sound quality as U3. Provide 12V or 48V phantom power supply. Make your XLR balance condenser microphones to be wireless. It is suitable for recording studios, theatrical, speaking and outdoor use.
ALL WIRELESS PLUG-AND-PLAY
Easy to carry, easy to set up, plug in and turn on the power to make your microphone wireless
For Home Studio
With high quality digital audio conversion technology, you can make your most authentic voice. Whether in a studio or live performance, you can get the voice that meets your needs. Make Your Truest Voice.
Live Performance
Live singing, speech, Video interview, music studio and other scenarios, you can experience the convenience of wireless system.
For Condenser Microphones With DSLR Cameras
2.4 GHz Digital Wireless Condenser Microphone system For worldwide,As a personal or professional video team, you can enjoy the convenience of wireless wherever you go.
Wireless Type 2.4GHz band is optimal for Microphone wireless, Approved for use in worldwide.
Other Applications Only Working With balance XLR condenser microphones
Audio Frequency Response 20Hz – 20KHz(-3dB). Dependent on microphone type or Input signal.
Working Range 90ft Actual range depends on RF signal absorption, reflection and interference.
Dynamic Range 110dB
Battery Life Up to 3 ~7 hours
Delay Time 5ms Latency, Simultaneous broadcasts on 6 channels
Phantom Power 12V Or 48V