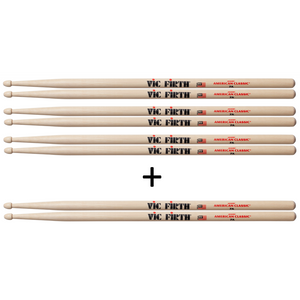 Vic Firth American Classic 7A Drumsticks Buy 3 Get 1 Free

The Vic Firth American Classic 7A Hickory Wood Tip Drum Sticks have a tear drop bead and are the perfect stick for light jazz and combo work.

The American Classic line combines tradition and Vic Firth style. With bold designs for fuller sound, the Classics are turned from select hickory a dense wood with little flex for a more pronounced sound. Hickory is also capable of withstanding a great deal of shock, making it highly durable.The wood tips are deeply back-cut for intensified cymbal response.

Length = 15 1/2"
Diameter = .540"