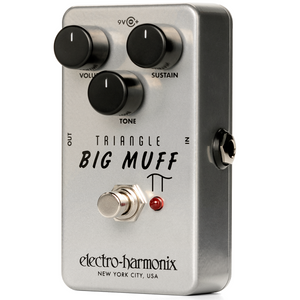 Description

More

Specs

Controls

Pedal Accessories
We have reissued the original Version 1 Big Muff and it's dripping with vintage Electro-Harmonix DNA and tone. Dubbed the Triangle Big Muff because of the layout of its Volume, Sustain and Tone controls, this is the one that started it all. The new Triangle Big Muff is a faithful re-creation of the original circa 1969 circuit now housed in a pedalboard friendly, die-cast chassis.
Electro-Harmonix founder, Mike Matthews, says: "The Big Muff Pi is the pedal we are best known for so I wanted to commemorate EHX's 50th Anniversary (1968-2018) by re-releasing V1, the very first Big Muff. Original pedals are now selling for hundreds of dollars and this reissue absolutely nails that creamy, violin-like sustain and musical tone at a price a working musician can afford."

The Triangle Big Muff features the following nods to convenience: an LED to indicate effect status, true bypass switching and the option of being powered by a 9-volt AC adapter.
The authentic V1 Triangle Big Muff reissued in a nano-sized chassis
Effect status LED
True bypass
Vintage look and graphics
9V battery included, also accepts optional EHX 9.6VDC-200mA power supply
Current Draw: 2.2mA @ 9VDC
Dimensions in inches: 2.75(w) x 4.5(l) x 2.1(h)
Dimensions in mm: 70(w) x 115(l) x 54(h)
TONE Control – Provides a range of sounds from high treble to deep bass. As you turn the knob clockwise the treble increases and bass decreases.
SUSTAIN Control – Adjusts the amount of sustain and distortion.

Footswitch & Status LED – Use the footswitch to toggle between effect and bypass. The Triangle Big Muff is active when the LED is lit. When the LED is off, the pedal is in true bypass mode.

IN Jack – Plug the output of your instrument or another effects pedal into the ¼" input jack. The input impedance presented at this jack is 122kΩ.

OUT Jack – Connect the Triangle Big Muff's ¼" OUT jack to the input of your amplifier or another effects pedal. When the Triangle Big Muff is in bypass mode, the OUT jack is connected directly to the IN jack. The output impedance is nominally 25kΩ.