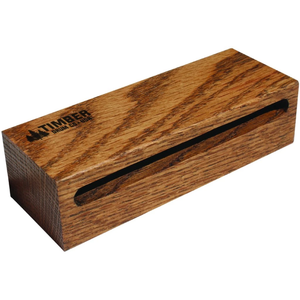 Get a well crafted authentic wood block with the Timber Drum T4-M
Timber Drum Company is a small workshop dedicated to crafting Made In USA instruments. The sound of these wood blocks can be described as "organic, natural and woody". That is to say, it is the real and authentic wood block sound that plastic blocks merely mimic. These instruments are built from one solid piece of American hardwood with a hand-rubbed oil finish. The one-piece design projects a focused tone that cuts through the other instruments and is also extremely durable. Add a Timber wood block to your personal collection of sound effects and be ready when inspiration hits. For the best tone, play near the center and close to the edge.
The Medium Block's dimensions are 1.625" x 2.5" x 7"