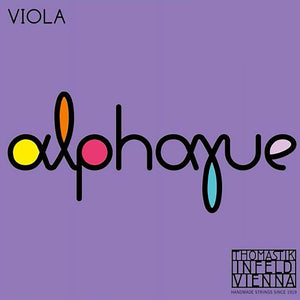 Alphayue Viola 4/4 - Set
A high-tech synthetic core married with renowned Thomastik-Infeld quality delivers a rich, sophisticated sound palette impossible to achieve with steel core strings. The strings are wound with monel. Over 17 years ago Thomastik-Infeld introduced the use of Monel in string development. Monel is a natural alloy, impervious to perspiration and suited for artists with a nickel allergy.
With its lower tension, ALPHAYUE Viola strings are more left-hand friendly and don't stress your instrument as much as other strings.
With brilliant overtones and a full and dark foundation, ALPHAYUE is suitable for the full range of instruments, from dark to bright.