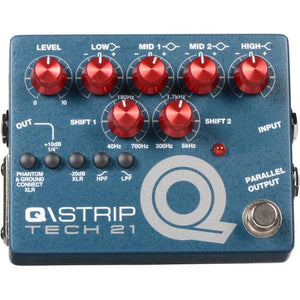 Description

More

Features

Pedal Accessories
The '60s and '70s are widely recognized as the heyday for professional recording console design. The EQ and preamp sections of these near-mythical vintage consoles are highly sought after, even to this day. Some of the most iconic guitar and bass tones in the history of recorded audio were tracked "direct" straight into these consoles channel strips.
The QStrip was designed with sophisticated features that enable you to take these highly-coveted tone shaping circuits with you, whether youre heading to a live gig or tracking in the studio or into your DAW. It's compact, extremely cost-effective and in an ultra-convenient DI format.
The 100% analog MOSFET circuitry in the heart of the QStrip provides the warmth, girth and larger-than-life tones for which vintage consoles are revered. Add in four bands of pro-audio-quality equalization, two parametric mid bands, as well as high and low shelving filters, and you have incredible control over how your instrument cuts through on stage or in a mix.
The HPF and LPF give added control over the frequency spectrum whether youre going direct with your bass, guitar, fiddle...or even a vocal. The QStrip is limited only by how far you are willing to push your creativity and how much of that juicy vintage tone you crave.
HPF cuts unmusical rumble associated with many instruments when going direct
LPF rolls off undesirable frequencies. Can also be used as a speaker simulator. When used in conjunction with the studio-grade EQ section, you can recreate different speaker cabinet curves so you can go direct with your favourite distortion and effects pedals

Very high impedance accommodates piezos and handles low impedance sources equally well

XLR is capable to drive power amps and has a -20dB pad to accommodate mic level inputs on mixers and pre-amps

1/4-inch output has switchable +10dB boost on tap, which is useful to drive power amps or push tube amps into overdrive.

Three modes of operation:


1. Phantom power via the XLR Output
2. Standard 9V alkaline battery (not included)
3. Optional power supply (Tech 21 Model #DC4)

• Smooth-action custom actuator

• All-metal housing