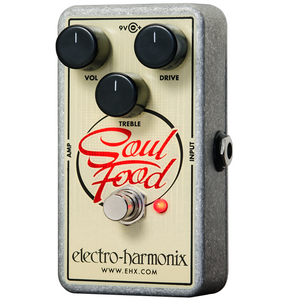 Description

 Specs

Controls

Pedal Accessories
Tone aficionados kept telling EHX's Mike Matthews about a pedal that had achieved a lot of buzz because it was only obtainable at an exorbitant price. That pedal was the KLON CENTAUR. A believer in bringing great tools to starving musicians, Mike tasked his trusty team to create an affordable alternative, and that is how the SOUL FOOD was cooked up.
The SOUL FOOD delivers transparent overdrive with great touch and response. Its circuitry features boosted power rails to provide abundant headroom and increased definition. Best of all, you don't have to be a rock star to own one!
Transparent overdrive
Boosted power rails for extended headroom and definition
Super responsive
Compact, rugged design
Selectable true bypass or buffered bypass modes
9.6DC-200 power supply included. Also runs on 9 Volt battery
Dimensions in inches: 2.75 (w) x 4.5 (l) x 2.1 (h)
Dimensions in mm: 70 (w) x 115 (l) x 54 (h)
DRIVE Knob – Controls the amount of input gain. As you turn DRIVE clockwise, the overdrive ranges from clean boost, in the fully counter-clockwise position, to classic distortion, in the fully clockwise setting. There are many great sounds found within the full range of the DRIVE knob, we recommend experimenting with different positions in both halves of the DRIVE knob to find just the right amount of grit for your needs. In addition, turning DRIVE clockwise will bring out more mids in your tone.
TREBLE Knob – Acts as a tone control. When set to 12 o'clock (50%), the tone is neutral. As you turn TREBLE clockwise from the 12 o'clock setting, the treble gain increases making your overall sound brighter. As you turn TREBLE counter-clockwise from the 12 o'clock setting, the high end is reduced giving you a bassier sound.

VOL Knob – Sets the output level of the Soul Food. As VOL is turned clockwise, the output volume increases.

FOOTSWITCH and LED – The Footswitch selects whether the Soul Food is engaged or in bypass mode. When the effect is engaged, the LED is lit. An internal Bypass Mode switch is included to select between True Bypass and Buffered Bypass. See below for more information on the internal switch.

INPUT Jack – This ¼" jack is the audio input for the Soul Food. The input impedance is 1MOhm.

AMP Jack – This ¼" jack is the audio output from the Soul Food. The output impedance ranges from 650Ohm to 3.3kOhm.

Internal Bypass Mode Switch – If you remove the Soul Food's bottom cover, you will see the bat of a small switch sticking out of the board that holds the footswitch, it is located in the bottom right area of the pedal, below the AMP jack.