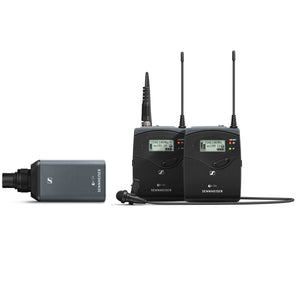 Description

More

Features

Specs
 A broadcast quality sound solution. Providing the highest flexibility for your video sound and field recording applications. A robust wireless microphone system that offers excellent sound quality, simple mounting and ease of use.
Multi-purpose set for mobile journalism and documentary. The powerful plug-on transmitter SKP 100 turns every wired dynamic microphone into a wireless transmitter while the easy to use clip-on microphone ME 2-II (omni-directional) offers excellent speech intelligibility during interviews.
Reliability and performance
Eventually, you'll most likely get to a point in your filmmaking career when you realize that audio quality is just as important as video quality when it comes to creating compelling content. And at a certain point, reliability and consistency become the top priorities when recording wireless audio while on set or in the field. Enter the evolution wireless G4 100 Series—the next level in your journey as a professional filmmaker.
Feature-rich and built to last
The evolution wireless G4 100 Series is packed with features that make it possible to get you up and running fast and efficiently. Use the Easy Setup function to automatically scan and select the best frequencies around you and take full advantage of the UHF spectrum. With up to 100 meters of range and a battery life of 8 hours, it's easy to see how the durably constructed ewG4 transmitters and receivers will perform when you need them to.

What's in the Box

EK 100 G4 camera receiver
SK 100 G4 bodypack transmitter
SKP 100 G4 plug-on transmitter
ME 2 clip-on microphone
6 AA batteries
CA 2 camera adapter
CL 1 3.5 mm jack cable
CL 100 XLR to 3.5 mm jack adapter cable
quick guide
safety guide
manufacturer declaration sheet
Rugged all-in-one wireless system with high flexibility for broadcast quality sound
Excellent sound and construction quality

Easy to use and fast setup time

Powerful and reliable wireless transmission

Range: up to 100 meters / 330 feet

Up to 8 hours of operation time

EK 100 G4

Frequency range

: 

A1: 470 - 516 MHz
Dimensions

: 

Approx. 82 x 64 x 24 mm
Compander

: 

Sennheiser HDX
THD, total harmonic distortion

: 

≤ 0.9 %
Weight

: 

(incl. batteries) approx. 160 g
Audio output

: 

3.5 mm jack socket: +12 dBu (mono, unbalanced)
Signal-to-noise ratio

: 

≥ 110 dBA
Switching bandwidth

: 

up to 42 MHz
Peak deviation

: 

±48 kHz
Nominal deviation

: 

±24 kHz
Operating time

: 

Typically 8 h
Modulation

: 

Wideband FM
Power supply

: 

2 AA batteries, 1.5 V or BA 2015 accupack
Current consumption

: 

at nominal voltage: typ. 180 mA with receiver switched off: ≤ 25 µA
Adjacent channel rejection

: 

≥ 65 dB
Intermodulation attenuation

: 

≥ 65 dB
Powering

: 

3 V battery / 2.4 V rechargeable battery
Receiving frequency

: 

Max. 1680 receiving frequencies, adjustable in 25 kHz steps 20 frequency banks, each with up to 12 factory-preset channels, no intermodulation 1 frequency bank with up to 12 programmable channels
RF sensitivity

: 

< 1.6 μV for 52 dBA eff S/N
Squelch

: 

low: 5 dBµV middle: 15 dBµV high: 25 dBμV
Temperature Range

: 

-10 °C to +55 °C
Receiver Principle

: 

Adaptive diversity
Blocking

: 

≥ 70 dB
SK 100 G4
Dimensions

: 

Approx. 82 x 64 x 24 mm
Compander

: 

Sennheiser HDX
THD, total harmonic distortion

: 

≤ 0.9 %
Weight

: 

(incl. batteries) approx. 160 g
Signal-to-noise ratio

: 

≥ 110 dBA
RF output power

: 

Max. 30 mW
Switching bandwidth

: 

up to 42 MHz
Peak deviation

: 

±48 kHz
Nominal deviation

: 

±24 kHz
Operating time

: 

Typically 8 h
Modulation

: 

Wideband FM
Power supply

: 

2 AA batteries, 1.5 V or BA 2015 accupack
Current consumption

: 

at nominal voltage: typ. 180 mA with transmitter switched off: ≤ 25 µA
Input impedance

: 

40 kΩ, unbalanced / 1 MΩ
Max. Input voltage

: 

3 Veff
Powering

: 

3 V battery / 2.4 V rechargeable battery
Transmission frequency

: 

Max. 1680 transmitting frequencies, adjustable in 25 kHz steps 20 frequency banks, each with up to 12 factory-preset channels, no intermodulation 1 frequency bank with up to 12 programmable channels
AF frequency response

: 

Mic: 80 – 18,000 Hz Line: 25 – 18,000 Hz
Temperature Range

: 

-10 °C to +55 °C
Frequency stability

: 

≤ ±15 ppm
SKP 100 G4
Dimensions

: 

Approx. 105 x 43 x 43 mm
Compander

: 

Sennheiser HDX
THD, total harmonic distortion

: 

≤ 0.9 %
Weight

: 

(incl. batteries) approx. 195 g
Signal-to-noise ratio

: 

≥ 110 dBA
RF output power

: 

Max. 30 mW
Switching bandwidth

: 

up to 42 MHz
Peak deviation

: 

±48 kHz
Nominal deviation

: 

±24 kHz
Operating time

: 

Typically 8 h
Modulation

: 

Wideband FM
Power supply

: 

2 AA batteries, 1.5 V or BA 2015 accupack
Current consumption

: 

at nominal voltage: typ. 180 mA with transmitter switched off: ≤ 25 µA
Input impedance

: 

68 kΩ, unbalanced
Max. Input voltage

: 

3.3 Veff
Powering

: 

3 V battery / 2.4 V rechargeable battery
Transmission frequency

: 

Max. 1680 transmitting frequencies, adjustable in 25 kHz steps 20 frequency banks, each with up to 12 factory-preset channels, no intermodulation 1 frequency bank with up to 12 programmable channels
AF frequency response

: 

80 – 18,000 Hz
Temperature Range

: 

-10 °C to +55 °C
Frequency stability

: 

≤ ±15 ppm
ME 2
Connector

: 

3.5 mm jack
Frequency response

: 

50 to 18,000 Hz (ME 2-II)
Max. sound pressure level

: 

130 dB
Cable length

: 

approx. 1.60 m
Transducer principle

: 

pre-polarized condensor microphone
Pick-up pattern

: 

omni-directional
Sensitivity in free field, no load (1kHz)

: 

20 mV/Pa
Equivalent noise level

: 

36 dB