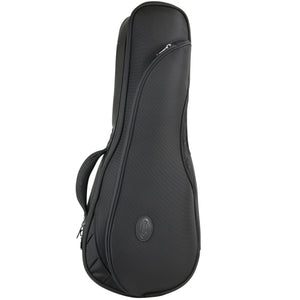 Description

Features

Specs

Humidity Care
All RB Continental cases feature a Ballistic Quadraweave exterior, quilted "double helix" velvet interior, high-strength corded edges and seams, and double-stitched with high tensile thread and reinforced at tested stress points. This concert ukulele case has a thick shock-absorbing Flexoskeleton with reinforced impact panels, a neck brace suspension system with an adjustable locking security strap, and rubberized foam headstock grip.
The adjustable, padded hideaway backpack straps make traveling with this beauty a breeze. Each case is reinforced at tested stress points and double stitched with extra-strength high tensile thread. A knurled abrasion grid on the top and bottom resists scuffing, and interior pads at the headstock and endpin provide long-lasting protection. The case is finished with custom plated hardware, including industrial strength zippers and a Zero-G palm-contoured handle with weight distributing foam core for unsurpassable longevity and comfort.
Ballistic Quadraweave exterior
Shock-absorbing Flexoskeleton
Zero-G palm-contoured handle
EVA-reinforced pocket
Length: 28in
External Width: 12.5in
External Height: 8.25in
Internal Length: 26in
Internal Upper Bout Width: 8in
Internal Lower Bout Width: 10in
Internal Depth: 4in
Weight: 5lb
Acoustic guitars and ukulele are made of wood, and wood is sensitive to changes in climate. Shifts in temperature or relative humidity can affect your instrument in multiple ways, some of which can lead to costly repairs if you're not careful. Solid woods in particular are especially prone to the effects of climate fluctuation. For example, extended exposure to low relative humidity (below 40% RH) can dry out the wood, causing it to shrink and run the risk of cracking. Similarly, excessive humidity can cause the wood to absorb moisture and swell, potentially causing other problems. Without adequate humidity control (especially in drier local climates), acoustic instruments can crack and their necks can warp, causing problems with fretting, intonation and playability.
So how do you prevent this kind of damage? Easy: by keeping your guitars and ukulele properly humidified (ideally between 40-60% RH). The easiest way to do this is by storing your instruments in a case with a case two-way humidifier inside. A two-way humidifier will slowly absorb or release moisture inside your case, maintaining humidity to help ensure your instrument doesn't suffer damage. Using a digital hygrometer can help you monitor humidity levels around your instrument.
Symptoms of a dry acoustic instrument:
Low action. Strings are very close to the fretboard.

Hump on the fretboard where the neck joins the body.

Sunken top across the soundboard between bridge and fingerboard.

The back of instrument looks very flat when it is dried out.

Sharp fret ends extend beyond the edge of the fretboard.

The plane of the neck angle on a dry instrument hits above the top of the bridge.
Symptoms of a wet acoustic instrument:
High action. Strings that are unusually high off the fretboard, making it difficult to play.

Unusually swollen top

Unusual warp on the top, back or both at the end-block

Improper neck angle. Sighting the neck to the bridge, the frets will appear to hit below the bridge.
Using patented technology, the D'Addario Two-Way Humidification System features disposable, moisture-filled packets with a breathable membrane that provides two-way humidity control, meaning it can either release or absorb moisture to consistently maintain a predetermined relative humidity (RH) level of 45-50 percent.
Music Nomad the leader in equipment care products, has developed an easy to use, no mess, and low maintenance Ukulele humidifier. The Humilele rests securely on top of the strings to safely and evenly hydrate your Ukulele to avoid these problems.
Final Notes on Humidity Control
To monitor the amount of humidity your instrument is receiving, we recommend the purchase of a digital hygrometer, a device that gauges and provides a read-out of humidity levels. It can be kept in the room where you store your instruments, or, better yet, in a central location inside the instrument case, preferably Velcro'd to the outside of the accessories compartment (facing the heel). The optimal range for your guitars and ukulele is 45-55% RH.