Description

Applications

Features

FAQ

Specs
World class DI
At the heart of the design are two high performance Eclipse ET-DB2 transformers. These deliver 20Hz to 20kHz performance with less than 1.5dB deviation above 18kHz and are able to withstand tremendous signal levels without distortion. Unlike active circuits that overload when the signal exceeds the rail voltage, transformers saturate. This creates a pleasing effect that naturally rounds out the tone, acting like a subtle limiter which is particularly advantageous when interfacing the ProD2 with digital pianos, samplers and drum machines that can produce excessive dynamics. Transformers are particularly adept at eliminating hum and buzz caused by ground loops.
ProD2 with Stereo Keyboard
The ProD2 is designed for stereo devices like keyboards. Simple, straight ahead hookup makes it easy to connect your keys to your recording system for great stereo sound!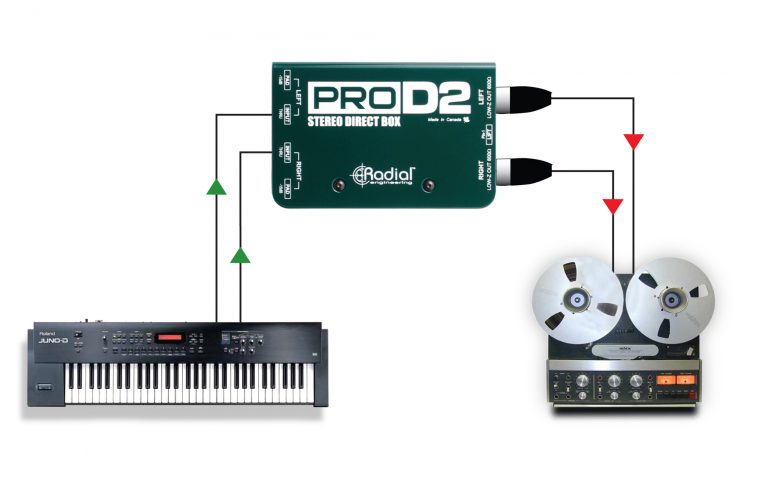 ProD2 with Instruments
Two Radial ProDI direct boxes in one, multi instrumentalists rejoice! The ProD2 is perfectly well suited for bass, acoustic guitar or just about any instrument with a pickup.

ProD2 with Drums & Samplers
Driving the output from a sampler or electronic drum machine to the PA system has never been easier. The ProD2 delivers plenty of headroom and lets you connect a local DJ mixer too.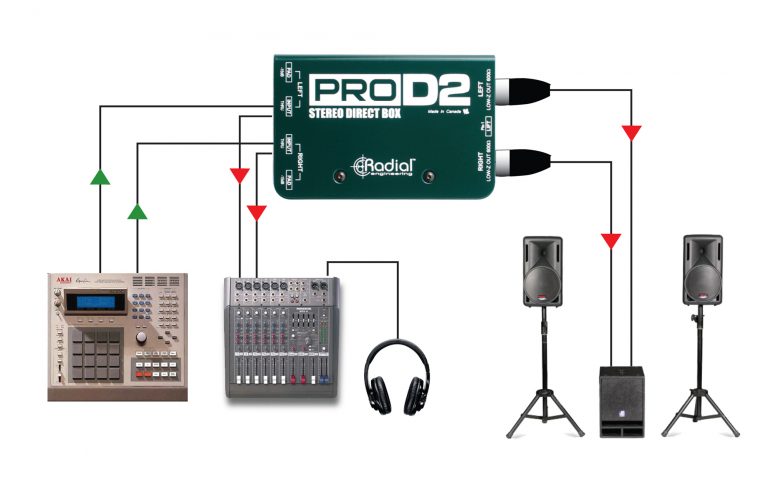 ProD2 as a splitter
Take the mono output from your keyboard and patch it into Ch 1, use the THRU on Ch 1 to send a split signal to Ch 2. Voila! Two isolated mic level outputs to send to FOH and Monitors!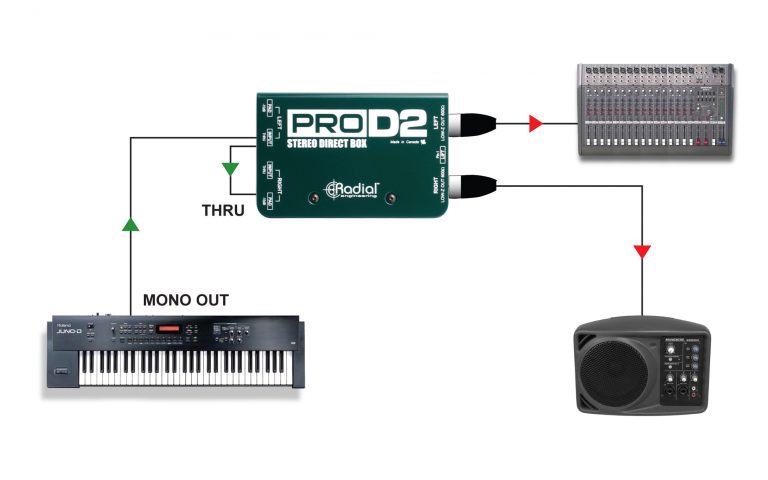 Stereo direct box designed for keyboards
Smooth, warm sound rounds out digital edge
Able to handle huge transients without choking
May be rack mounted for touring rigs
How does the Radial ProD2 compare to the Radial Duplex?
The Radial ProD2 employs a custom wound Eclipse transformer while the Duplex employs the word's finest Jensen transformer. The Duplex is fully outfitted with tons of features while the ProD2 feature set has been kept to a minimum. This makes the ProD2 more affordable.

How would you compare the sound between the Duplex and the ProD2?
Both are very good. The Duplex has a wider frequency response that extends to 40kHz which will be most audible in the studio. The ProD2 is designed to work up to 20kHz.

Does the ProD2 have the same transformer and sound as the ProD8?
Yes. Both employ the same transformer, audio circuit and RF filtering.

What is the benefit of a stereo DI as opposed to two single channel units?
For keyboards, it keeps everything tidy. For multi-instrumentalists who may switch between an acoustic guitar and a bass, it enables them to carry one box instead of two. It can also save you a few dollars!

Why are keyboards usually connected to the PA using a passive DI?
Most keyboards are high output devices that will overload most active direct boxes. As such, a passive transformer is better suited at handling the extreme dynamics. The other benefit with transformers is that they do not so much distort; they saturate. So when hit hard they act like a subtle limiter that is often referred to as vintage sounding.

If I can I connect a keyboard directly to a mixer, why do I need a DI box?
When using a snake system, it is important that all signal levels be similar in amplitude. If for instance you send a line level signal down the same snake as a mic level, you will likely encounter cross-talk due to the higher sensitivity of the mic preamp input. A direct box is designed to balance the signal and bring the level down so that it is compatible with the microphones on stage.

Can I use the ProD2 with a bass or acoustic guitar?
Yes. It is exactly the same as the ProDI only in a two channel (stereo) version.

Can I use the ProD2 with a computer?
Yes, although the ProAV2 has more suitable connectors.

Audio circuit type: Passive, transformer based
Transformer: Eclipse ET-DB2, 12:1 ratio
Number of channels: 2
Frequency response: 20Hz ~ 18.5KHz (± 0.2dB)
Dynamic range: 128dB
Total harmonic distortion: 0.01% from 20Hz~20kHz @-10dB
Phase Deviation: 1° @ 100Hz; 8° @ 20Hz
Input Impedance: 140k Ohms, unbalanced
Output Impedance: 150 Ohms, balanced
Maximum Input: +18dB @ 20Hz
Features

Input pad, 180° polarity reverse, Ground lift
Input Connectors: 1/4"
Output Connectors: XLR, 1/4" thru

General

Construction: 14 gauge steel chassis & outer shell
Size (L x W x D): 5" x 3.3" x 1.8" (127mm x 84.1mm x 45.5mm)
Weight: .54kg (1.2lbs)
Shipping size (L x W x D): 6.5" x 4" x 3" (165mm x 102mm x 76mm)
Shipping weight: 0.61 kg (1.35 lbs)
Power: Passive, no power required
Conditions: For use in dry locations only between 5°C and 40°C
Warranty: Radial 3-year, transferable