Description

Applications

Features

FAQ

Specs
Pure Sound of the Instrument
The Radial JDI is a passive direct box designed to handle extreme signal levels without distortion of any kind. At the heart, the Radial JDI employs the world class Jensen JT-DB-EPC audio transformer delivering a smooth, warm sounding Bessel curve, reminiscent of the finest vintage gear. Ruler flat from 10Hz to 40kHz and with virtually zero phase deviation, the JDI delivers the natural, pure sound of the instrument without artifact. By its no-power passive design, the Radial JDI performs both high-to-low impedance conversion and signal balancing over a magnetic bridge that passes signal while rejecting stray DC voltage. This makes the JDI particularly adept at eliminating hum and buzz caused by ground loops.
JDI with Electric Bass
The JDI is often selected for high output bass guitars. It is able to handle huge signal levels without distortion or artifact. On stage it sends the pure sound of the bass to the PA with minimal loading. In studio, it is perfect for recording direct.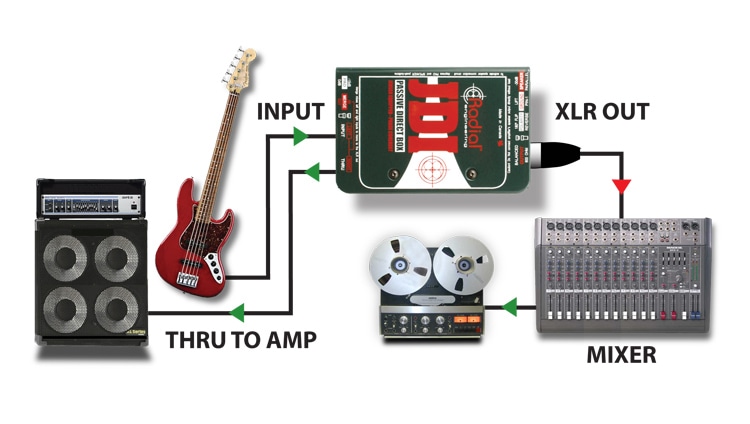 JDI with Acoustic Guitar
Most acoustic guitars have built-in preamps that can be peaky. The JDI naturally smoothes out the transients for a warmer tone. And because the JDI is able to handle huge transients, it will not distort. This makes the JDI a great direct box for acoustic guitars.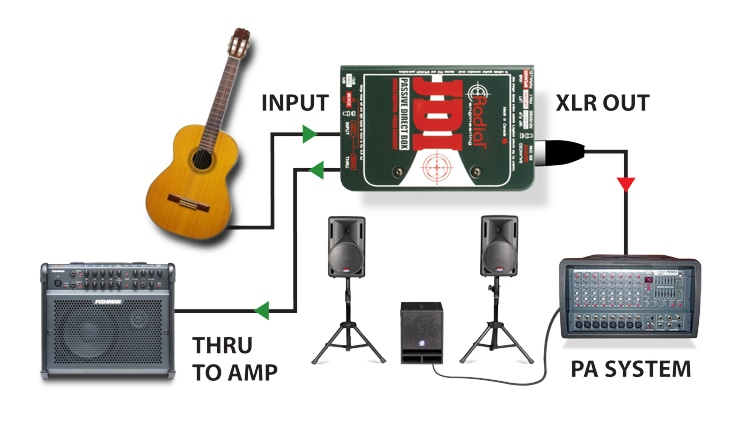 JDI with Keyboards
Today's digital keyboards are not only very dynamic, some like digital pianos have a tremendously wide frequency response. The Radial JDI is able to withstand excessive signal levels at all frequencies without introducing distortion or phase shift.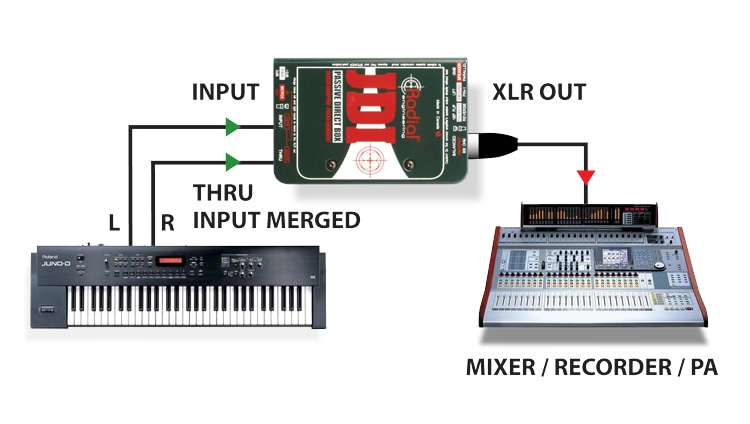 Jensen Transformer equipped passive DI
Eliminates hum and buzz from ground loops
Virtually zero phase & harmonic distortion
Exceptional signal handling and noise rejection
What is a direct box anyway?
A direct box is an impedance matching and signal-balancing device. DIs convert hi-impedance instrument signals to mic-level balanced lines for interface with pro-audio equipment such as mixing consoles. A good direct box will ensure proper electrical signals are maintained throughout the signal chain and allow long cable runs without added noise. A good DI box is just as important as a good microphone.

What is the difference between a passive and an active DI?
Passive direct boxes use a transformer to convert the electrical signals while active direct boxes use an amplifier circuit. Passive boxes have the advantage of providing isolation which can reduce ground hum in systems.

I heard active direct boxes are better?
This can be thought in terms of a dynamic mic compared to a condenser mic. There are good dynamic mics and there are good condenser mics. A good passive direct box depends entirely on the transformer that is being used. For instance, the Radial JDI uses the world's finest transformer, a Jensen®. These DIs sound fabulous! In fact way better than most active direct boxes.

If the JDI is so good, why should one buy the JDV over the JDI?
It comes down to the application. For keyboards, and simple live set-ups, the JDI is fantastic. No power supply, no batteries to go dead. You just plug it in and it sounds great. The JDV on the other hand will give you more reach. You will enjoy more detail or as Khaliq Glover (engineer for Marcus Miller and Herbie Hancock) said: "The JDV is almost holographic compared to the single dimension of most DIs."

Why do people use active direct boxes?
Because a good passive direct box requires a good transformer and these are expensive. The Radial JDI uses a Jensen® transformer and these are considered the best in the world. Active boxes can be made for much less money and will generally sound better than a cheap passive box.

So why not simply buy an active direct box?
Active DIs can be good but they can have several disadvantages: First and foremost, active direct boxes require power. This means that they must either run off batteries, phantom power from the console or use a power source like a 'wall-wart' or AC/DC supply. When the power is low, they distort. 

Audio circuit type: Passive, transformer based
Transformer: JT-DB-EPC
Number of channels: Single channel (mono)
Frequency response: 20Hz ~ 20KHz (± 0.2dB)
Dynamic range: 135dB
Total harmonic distortion: 0.05% from 20Hz ~ 20kHz @-10dB
Phase Deviation: 0.3° @ 100Hz; 3° @ 20Hz
Input Impedance: 140k Ohms, unbalanced
Output Impedance: 150 Ohms, balanced
Maximum Input: +21dB @ 20Hz ~ 20kHz
Features

Input pad, Mono Sum, 180° polarity reverse, Ground lift, Speaker filter

General

Construction: 14 gauge steel chassis & outer shell
Finish: Durable powder coat
Size (L x W x D): 5" x 3.3" x 1.8" (127mm x 84.1mm x 45.5mm)
Weight: 1.55 lbs (703 grams)
Shipping size (L x W x D): 6.5" x 4" x 3" (165mm x 102mm x 76mm)
Shipping weight: 1.92 lbs (870.9 grams)
Power: Passive, no power required
Conditions: For use in dry locations only between 5°C and 40°C
Warranty: Radial 3-year, transferable