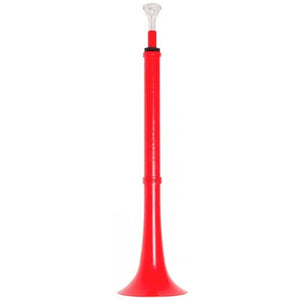 A totally new instrument; the fun first step to brass playing.
The easiest way to start your journey!
Easy to play
The brightly colored pBuzz has been designed especially for mini musicians' little hands. Its smooth edges and light weight make it easy for your child to make and hit the note every time; they can enjoy making music straight away.
Great value
The pBuzz is the perfect solution if you would like to give your child a taste of playing a brass instrument before you make a more costly commitment. It comes with a custom-made plastic mouthpiece and an array of supporting online learning resources should you need them – ready to go!
Hassle-free
Brass instruments are easily dented, damaged, and high maintenance. Because our pBuzz is made from recyclable ABS plastic it is really robust, hard-wearing, and can withstand the inevitable rough treatment it may receive. It is very low maintenance - you can even clean the mouthpiece in the dishwasher.
Fun!
Early exposure to a playful instrument like the pBuzz can help develop your child's sensory and fine motor skills, encourage self-expression, and stimulate imagination. By encouraging their creativity, pBuzz will help build confidence and nurture their natural music talents, all while having great fun!