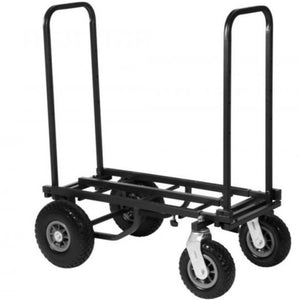 Description

Features

Specs
Capitalizing on large treaded wheels and a heavy-duty frame, our UTC5500 All-Terrain Utility Cart lives up to its name. This burly cart hauls 550 lb of gear in a single trip over rough or uneven surfaces including grass, gravel, dirt, and debris. The versatile bed expands to make room for large loads and it contracts to negotiate tight spaces. Ergonomically positioned handles at each end facilitate comfortable pushing, pulling, and steering by one person or by multiple people. The handles also fold flat against the bed to clear the way for oversized gear. While this capable cart is rugged and agile, it is also geared toward safety. Locking casters keep the cart from rolling during loading and unloading. Plus, eyelets on the frame provide anchor points for straps to secure equipment. And, despite its brawn, the cart folds into a compact configuration to make efficient use of storage space.

Safely hauls 550 lb of heavy gear to reduce load-in and load-out times
Large treaded wheels tackle uneven terrain and the front wheels rotate 360° for ease of steering
Bed size adjusts to take on large loads or fit through tight spaces
Handles can lie flat against the bed to clear the way for oversized gear
Application Gear Transportation
Weight Capacity 550 lbs
Compact Size (L) 30" x (W) 13.5"
Extended Size (L) 52" x (W) 13.5"
Platform Bed Height 11"
Handle Height 37"