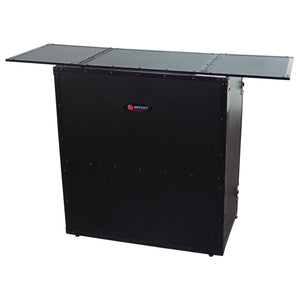 Black Label™ Flight Zone® Series FZF5437T fold-out table stand. It's the perfect companion piece for the DJ who likes to go completely modular. Use it for a home studio set up or on stage. Made of all black laminate ply, aluminum valance edging, and steel hardware, this stand provides a clean professional appearance and is conveniently easy to set up or tear down.

All Black Anodized and Powder Coated Hardware
Heavy-Duty Handle and Latches
Table Stand Folded Dimensions: 33.25"W x 36.5"H x 4.25"D
Table Stand Open Dimensions: 54"W x 37"H x 19.5"D
Table Surface Depth is 17"
Holds a Maximum Weight of 100 lbs. Evenly Distributed
Limited Lifetime Warranty
Approx. Exterior Dimensions: 36.5" W x 4.25" D x 33.25" H
Approx. Weight: 48 lbs
Approx. Shipping Dimensions: 34" W x 6" D x 38" H
Approx. Shipping Weight: 55 lbs
UPC: 807822030860
EAN: 8078220308604
Case Constructs: All Black Anodized and Powder Coated Hardware
Case Features: Rubber Feet
This is just a case.  It does not come with any controllers, hardware, mixers,

 

laptops, cables etc shown.