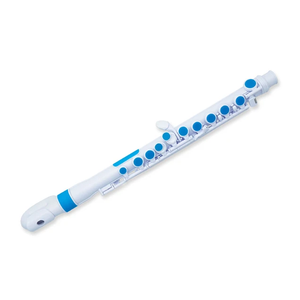 Description

Features

Flute Accessories
The jFlute is the perfect first flute choice for ages 4 to 10. It plays fully chromatically with standard flute fingering down to low D. The jFlute comes with the patented Firstnote lip plate as well as the standard lip plate. 
Nuvo improved the jFlute head joint by replacing the curved head with the new innovative "donut" head joint. The "donut" is a neat solution that still shortens the reach while keeping the embouchure hole in line with the keys. This helps young starters to keep the flute balanced while also making it much easier to set up the flute for each lesson. You will be surprised and thrilled by the resonant tone from the "donut".
The new jFlute 2.0 also includes key extensions to help small fingers and a brand new case which is smaller and easier to carry for the young flautist!
The perfect "first flute" choice for ages 4-10 years
Innovative "Donut" head joint
Firstnote Lip Plate helps student get started
Standard lip plate to learn real flute embouchure
Standard flute fingerings plays down to D
Silicone soft-touch keys
Offset G with key extensions to help small hands
Lightweight but durable protective case with carry strap
Includes hard case