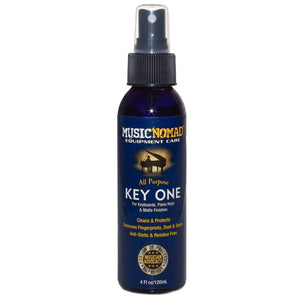 Description

Features

Accessories
Combining our passion for cleaning and helping musicians, MusicNomad Equipment Care Products deliver professional grade products to restore, maintain and protect your instrument.
Everything you need to maintain keyboards, piano keys and matte finish pianos in one easy spray and wipe. Safe on all surfaces. A single spritz from our atomizer cleans fingerprints, dust and smudges like no other product. Streak free and residue free, it leaves a beautiful clean surface. Our anti-static agents help reduce the binding of dust to the surface. Small in size but big in results. MusicNomad Products are used by worldwide by musicians, repair shops, collectors & instrument makers. 4oz.
Recommended use on all surfaces.
Cleans & Protects Keyboard Instruments, Keys, & Matte Pianos
Safely Removes Fingerprints, Dust & Grime from all Surfaces
Anti-Static Formula keeps dust from Binding to your surfaces
Residue free Pro Formula for long lasting, quick & easy results
Recommended accessories, sold separately: