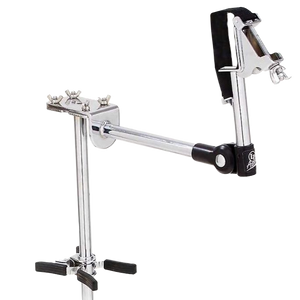 The LP Aspire Bongo mount is an easy, quick, and secure way of mounting bongos, then adjusting them to the optimal playing position. It is the perfect unit for adding bongos to LP Aspire or Matador double conga stands without resorting to purchasing a whole new stand. The mounting system combines with LP's patented strap-lock device to ensure rapid set up/take down. For precise positioning of bongo skins, the neck pivots to taste.
Quick and easy way to add bongos to a double conga stand without buying a whole stand. 
Utilizes LP's patented strap-lock system for quick and secure set-up. 
Neck tilts for precise positioning
Mount fits Aspire and Matador Double Conga Stands.