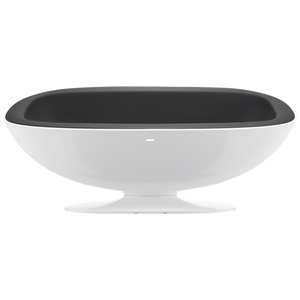 Space Charging Dock Stay Powered Up
Inspired by Space Age design, this dock elevates the style and artistry of LAVA ME 3. It is not only a recharger but also a decoration.
Multi-purpose: charger and guitar stand
Wireless charging
Soft inner base for snug fit
Smart charging status indicator
High resistance against toppling
This product is white and gray. Some of the photos shown in the Features section are the Space White version (one color).
Iconic Design
Functional, Intuitive, Minimalist
Perfect Match
The dock features a polished outer shell and a soft inner base. It matches seamlessly with LAVA ME 3 both in function and aesthetics.
Multi-purpose Charging Dock
When connected to the contact points, LAVA ME 3 starts charging instantly.
When not charging, the dock serves as a guitar stand and a decoration.
Charging Status Indicator
The indicator light pulses when charging and stays on when fully charged. It offers you a quick view of the charging status.
Secure and Reliable
With reinforced balance, design and structure, the dock is resistant to toppling, shock, and moisture. Every aspect is secure and reliable.