Description

More

Features

Specs

Sound Samples
Legendary synthesis, radically re-imagined.
Organic, inspirational, and mind-blowingly powerful.
KORG's legendary Wavestation introduced the world to Wave Sequencing, transforming raw samples into sounds that no-one had ever heard before. The flagship OASYS and KRONOS keyboards developed Wave Sequencing even further, expanding on its unique palette of lush, evolving pads and driving rhythms.

Now, KORG is proud to announce the next step in digital synthesis: the wavestate. Featuring the radically re-imagined Wave Sequencing 2.0, the wavestate delivers astonishing, ever-changing sounds with extensive hands-on control.
Far from a nostalgic reissue, the wavestate is designed from the ground up for a new generation of musicians, producers, and composers, taking cues from sources as diverse as modular synths, groove boxes, and algorithmic composition. The compact form-factor, with 37 full-size keys, transports easily and fits neatly into any stage, studio, or desktop setup.
Wave Sequencing 2.0
With the Wavestation, each step of a Wave Sequence had a duration, a sample, and a pitch. This created ear-catching patterns–but the patterns repeated the same way, over and over. What if they could evolve in organic, unexpected ways, instead of just repeating?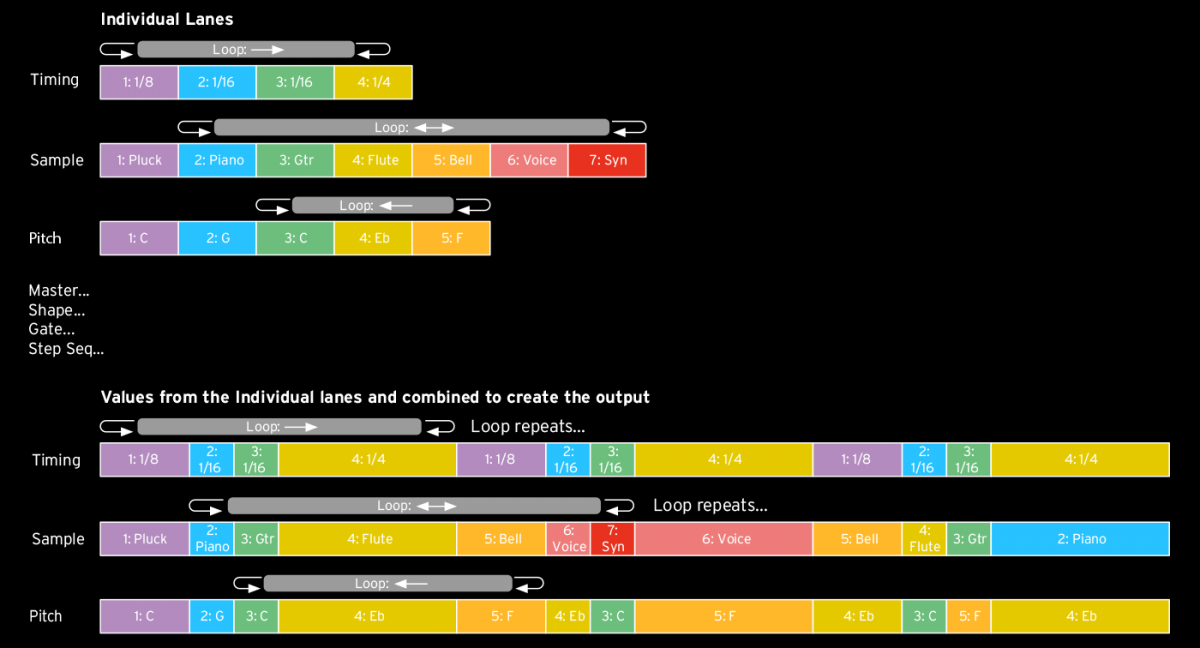 Easily expressive. Exceptionally deep.
Bursting with knobs and controllers, the wavestate invites you to explore. All of the basics–filter, envelopes, LFOs, effects–are at your fingertips with dedicated front-panel controls. Eight programmable Mod Knobs are customized to bring out the most in every sound, often taking them in entirely new directions. Use the knobs in realtime performance, and also save the results as new sounds. Add in the Pitch Bend and Modulation Wheels and the unique Vector Joystick, and you'll always have multiple dimensions of realtime expression.

Randomization that inspires.
Looking for even more inspiration? A dedicated front-panel button, marked by a "dice" icon, generates new sounds via intelligent randomization. Randomize the entire sound or just a part of it, such as the filter, the Sample Lane, or the effects. Use the results directly, or as a jumping-off point for your own creations.

Wave Sequencing 2.0
Extensive modulation with hands-on control
Gigabytes of samples
Modeled filters, including MS-20 and Polysix
64 stereo voices
4 Layers with Vector control
14 simultaneous effects
Set Lists and Smooth Sound Transitions
Randomization
Compact. Great design. 37 full-size keys.
Designed by Korg R&D in California
Keyboard 37 keys (velocity and release-velocity sensitive)
Sound generating system Wave Sequencing 2.0
Maximum Polyphony 64 stereo voices
Sounds

Ships with over 240 Performances, 740 Programs, and 1,000 Wave Sequences
Storage for tens of thousands of user Performances

Structure

Performance 4 Layers, Reverb, EQ; all edits are stored in the Performance, DAW-style (saving as separate Programs, Wave Sequences etc. is supported but not required)
Layer Program, Arpeggiator, Key and Velocity Zones
Program Wave Sequence, Filter, Amp, Pre FX, Mod FX, Delay

Filters 2-pole LPF, 2-pole HPF, 2-pole BPF, 2-pole Band Reject, 4-pole LPF, 4-pole HPF, 4-pole BPF, 4-pole Band Reject, Multi Filter, MS-20 LPF, MS-20 HPF, Polysix
Modulation

Controllers Mod Wheel, Pitch Wheel, Vector Joystick X/Y, 8x Program/Performance Mod Knobs
Other Sources 3x Envelopes, Vector Envelope, 3x LFOs, 2x Mod Processors, 2x Key Track, Step Sequencer Lane, Step Pulse, Tempo, Program/Performance Note Count, Program/Performance Voice Count, Poly Legato, Velocity, Exponential Velocity, Release Velocity, Gate/Gate+Damper, Note-On Trigger/Note-On Trigger+Damper, Note Number, Aftertouch/Poly Aftertouch (external MIDI only), MIDI CCs +/-, MIDI CCs +
Destinations Most parameters can be modulated, including parameters of individual Wave Sequence Steps. Depending on Wave Sequence length, there can be more than 1,000 potential modulation targets per Program.

Effects

Pre FX Decimator, Graphic EQ, Guitar Amp, Modern Compressor, Parametric EQ, Red Compressor, Ring Modulator, Tremolo, Wave Shaper
Mod FX Black Chorus/Flanger, Black Phase, CX-3 Vibrato Chorus, EP Chorus, Harmonic Chorus, Modern Chorus, Modern Phaser, Orange Phase, Polysix Ensemble, Small Phase, Talking Modulator, Vintage Chorus, Vintage Flanger, Vintage/Custom Wah, Vox Wah
Delay L/C/R Delay, Multiband Mod Delay, Reverse Delay, Stereo/Cross Delay, Tape Echo
Reverb Early Reflections, Overb
Performance EQ 4-band parametric EQ

Inputs/outputs

Headphone (6.3 mm stereo phone jack)
OUTPUT L/MONO and R (impedance-balanced 6.3 mm TRS phone jacks)
DAMPER (6.3 mm phone jack)
MIDI IN and OUT connectors
USB B port

Power supply AC adapter (DC12V, 2500mA)
Power consumption 5 W
Dimensions (W × D × H) 565 × 338 × 92 mm/22.24" × 13.31" × 3.62"
Weight 2.9 kg/6.93 lbs.
Included items AC adapter, Precautions, Quick Start Guide
Accessories (sold separately) DS-1H damper pedal, PS-1 pedal switch, PS-3 pedal switch