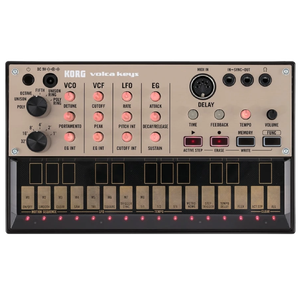 Description

More

Features

Specs
The ideal introductory synthesizer, with a simple – yet powerful – polyphonic analog sound engine and loop sequencer
Volca Keys is a long-awaited synthesizer that adds a new chapter to the long and storied history of Korg's analog synthesizers. Volca keys is a 27-key analog lead synth that generates unbelievably powerful sound from its compact body. Starting with a filter section that uses the circuitry of the legendary miniKORG700S (1974), it delivers astonishing sound that takes full advantage of Korg's half-century of know-how in circuit design.

With a simple structure that includes delay effect and a sequencer, it's also an ideal choice as a first analog synth. It offers the richly expressive sounds that are distinctive of an analog synth, providing the enjoyment of simple yet deep sound-creation.
Simple three-voice polyphonic analog synthesizer
With its structure of 3VCO, 1VCF, 1VCA, 1LFO, and 1EG, the volca keys has a recognizable, versatile structure. The ability to generate diverse and powerful sounds with just a few carefully selected parameters is a distinctive characteristic of analog synthesizers. The possibilities are endless; you can use the three oscillators to play chords, use them in unison with detune to produce solid lead lines, or apply ring modulation to create far-out metallic sounds. This is also an ideal beginner's instrument for learning the enjoyment of creating your own sounds.

Voicing function lets anyone create sounds easily
The Voicing function makes it easy to specify how the three oscillators will be combined. Simply turn the knob to choose one of six combinations: Poly, Unison, Octave, Fifth, Unison Ring, or Poly Ring. Without complicating the volca's simple design, this feature makes it easy to obtain a wide variety of sounds.

Delay effect for even more sonic possibilities
The volca keys contains a delay effect that's indispensable for creating spacey synthesizer sounds. This effect also reproduces the pitch change that occurs when you change the delay time on an analog tape echo unit.
Loop sequencer lets you record phrases just as you play them
There's a loop sequencer with up to 16 steps, allowing you to record your performance on the touch panel keyboard just as you play. It's easy to create phrases that come to mind, and you can also use overdub recording to produce complex loops that could not be played individually.
Up to eight sequence patterns can be stored in internal memory.

Use the Motion Sequence function to meticulously craft your loops
The Motion Sequence function lets you record knob movements, letting you apply time-varying changes to your sound that will enhance your loops and add originality to your live performances.

Use the Active Step function and Flux function to add dynamic change to your sequences
Active Step is a function that lets you skip a step during sequence playback. It can create effects similar to a short loop or unexpectedly irregular rhythms, allowing dynamic performances just as though you were performing the sequence itself.
By turning on the Flex function, you can play back the phrase without quantizing the steps, producing a loop with a distinctive sense of groove.
The polyphonic synthesizer you've been waiting for

Simple three-voice analog synthesizer
Voicing function lets anyone create sounds easily
Delay effect for even more sonic possibilities

Simple loop sequencer

Loop sequencer lets you record phases just as you play them
Use the Motion Sequence function to meticulously craft your loops
Use the Active Step function and Flux function to add dynamic change to your sequences

Convenient functions for tremendous ease of use

Self-tuning function overcomes pitch drift - the weak point of an analog synth
SYNC jack and MIDI IN connector allow synchronized performances with multiple units or with your DAW
Compact size, battery-powered operation, and built-in speaker for enjoyment anywhere
Keyboard Multi touch Keyboard
Synthesizer

Type Analog synthesis
Maximum Polyphony 3
Structure 3VCO, 1VCF, 1VCA, 1LFO, 1EG
VCO Octave, Ring Modulation, Detune, Portamento, EG Int.
VCO Wave Sawtooth, Square
VCF Cutoff, Peak, EG Int
VCF Type Low Pass Filter, 12 db/oct
LFO Rate, Pitch Int, Cutoff Int, Wave (Sawtooth, Triangle, Square)
EG Attack, Decay/Release, Sustain

Effects


Delay Time, Feedback, Temp Sync

Sequencer
Number of parts
1
Number of Steps
16
Number of Recording Patterns
8
Connectors
Audio Output
Headphones (3.5mm stereo mini jack)
Sync
Sync In (3.5mm monaural mini jack, Maximum input level: 20V)
Sync Out (3.5mm monaural mini jack, Maximum Output level: 5V)
MIDI
In
Power
Battery Life
Approximately 10 hours (using alkaline batteries)
Power supply
AA alkaline battery ×6
AA nickel-metal hydride battery ×6
AC adapter "KA-350" (optional)
Others
Accessories
AA alkaline battery ×6 (for verifying operation)
Options
AC adapter (KA-350)
Dimensions
(W x D x H)
193 × 115 ×46 mm / 7.61 x 4.54 x 1.81 inches
Weight
377 g / 0.83 lbs (Excluding batteries)