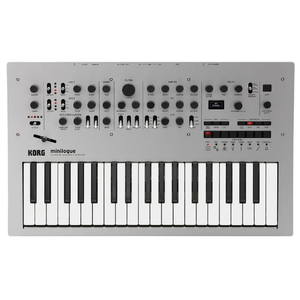 Description

More

Features

Specs

Sound Samples
A next-generation polyphonic analog synthesizer - and so much more.
Minilogue's newly developed analog synthesizer circuit delivers polyphony and full programmability at a great price --- exactly what today's musician needs. With the minilogue, you can get your hands on the powerful sound that's only possible with real analog, and find inspiration with features including a polyphonic step and motion sequencer, on board tape-style delay, multiple sound shaping and filter options, and an oscilloscope display. All of these seamlessly integrated features make minilogue as fun and easy to use as it is powerful. It's the next-generation analog synthesizer for musicians of all types.
 
True analog sound.
The synth circuits for minilogue are all new ground up designs, delivering a synthesizer experience like no other. Unprecedented in this class, it's a four-voice polyphonic true-analog synth with an interface that's designed for accessibility. 

Polyphony and Presets – Perfect.
minilogue goes beyond analog synths in its price range by adding 200 preset locations. Select a program for instant access to great sounds - - ranging from thick basses to deep pads to brilliant polyphonic leads and atmospheric sounds. No need to have deep synthesis knowledge; just choose a sound and tweak - a workflow that is very familiar with musicians today. 

Eight voice modes
- POLY - operates as a four-voice polyphonic synthesizer
- DUO - operates as a unison two-voice polyphonic synthesizer
- UNISON - operates as an all-unison mono synthesizer
- MONO - operates as a mono synth with sub-oscillator
- CHORD - produces chords
- DELAY - voices 2--4 sound consecutively at a delay following voice 1
- ARP - an arpeggiator operates with up to four voices
- SIDE CHAIN - when a note sounds, the volume of the preceding voice is lowered

16-step sequencer.
Get creative with the intuitive 16-step sequencer with motion sequence recording capabilities, and make your sound truly come to life. The minilogue provides real-time recording with overdubbing, and step recording that lets you record simply by consecutively specifying notes, giving you a great way to create phrases and performances.

Build quality.
The uniquely curved, sand-blasted 2mm aluminum front panel, metal shaft potentiometers, solid, chassis-mounted metal shaft potentiometers and rubber-coated knobs give the roadworthy minilogue a standout look and feel to complement its powerful and dynamic sound creation capabilities.

Sync with groove machine.
In addition to the standard MIDI connectors, the minilogue provides a sync connector that can be easily connected to Korg's groove machines. Connect this to a volca series unit, an electribe, or the SQ-1, and experience a session with synchronized sequencer playback.
Flexible, powerful four-voice analog synthesizer
Fully programmable, with 200 program memories (100 sounds included)
Voice Mode lets you flexibly configure the four voices
Automatable 16-step polyphonic note and motion sequencer
Oscilloscope function shows the waveform visually
Rugged and stylish with aluminum top panel, chassis-mounted pots, rubber-coated knobs, and real wood back panel
MIDI, USB MIDI, and Audio Sync for all types of in-studio and live connectivity, including direct sync with SQ1, volca, electribe, and more
Keyboard 37-keys (Slim-key, velocity sensitive)
Sound Generation Analog synthesis
Maximum Polyphony 4 voices
Program

200 programs (100 Presets / 100 Users)
Each program includes voice mode and sequence data settings
Up to eight favorite programs can be registered

Voice Modes

8 modes (Poly, Duo, Unison, Mono, Chord, Delay, Arp, Side Chain)
VOICE MODE DEPTH can vary different parameters in each mode

Main Synthesis Parameter

VCO1 Octave, Wave (Saw, Triangle, Square), Pitch, Shape
VCO2 Octave, Wave (Saw, Triangle, Square), Pitch, Shape
VCO2 MODULATION Cross Mod Depth, Pitch EG Int, Sync, Ring
MIXER VCO1, VCO2, Noise
FILTER Cutoff, Resonance, EG Int, Filter Type (2-Pole, 4-Pole), Keytrack, Velocity
AMP EG Attack, Decay, Sustain, Release
EG Attack, Decay, Sustain, Release
LFO Wave (Saw, Triangle, Square), EG Mod (Int, Rate, Off), Rate, Int, Target (Pitch, Shape, Cutoff)
DELAY Hi Pass Cutoff, Time, Feedback, Output Routing (Post Filter, Pre Filter, Bypass)

Sequencer

16-step polyphonic sequencer
Motion sequence can be used on up to four parameters

Controls

41 dedicated panel controls deliver immediate parameter access
A slider can control different parameters for each program

Display Real-time OLED oscilloscope provides visual feedback of parameter changes
Connectors

Headphones (6.3mm stereo phone jack)
Output (6.3mm monaural phone jack)
Audio In (6.3mm monaural phone jack)
Sync In (3.5mm monaural mini jack)
Sync Out (3.5mm monaural mini jack)
MIDI In
MIDI Out
USB Type B

Power Supply AC adapter (DC9V)
Power Consumption 8 W
Dimensions (W x D x H) 500 x 300 x 85 mm / 19.69" x 11.81" x 3.35"
Weight 2.8 kg / 6.17 lbs.
Included Items AC adapter