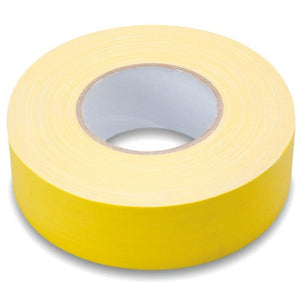 Used for years to bring order to stages everywhere, gaffer tape has become the roadie's secret weapon in the war against cable clutter. Better than duct tape, its easy-on, easier-off adhesive leaves no sticky, gummy residue on gear, stands, or cables. 
Tape snakes to the floor. Tape cables to stands. You can even wrap a short length of gaffer tape around a coil of unused cable as a cable tie. It tears easily by hand—no cutting required—and adheres tightly until you remove it. You'll wonder how you ever got along without it!
What is Gaffer Tape?
Gaffer tape is a production tape with a strong cloth mesh meant to be adhesive enough to hold cables and other production-related accessories in place, but not so adhesive as to leave residue. Gaffer tape should be easily applied and removed to keep up with changing setups based on production needs.
What is Gaffer Tape Used for?
Gaffer tape is most often used to organize cables and keep them out of the way, or keep people from tripping over loose cables and severing a connection. If you have several cables running through your setup to a mixer behind you, you would use gaffer tape to bundle them together and run in the same direction neatly.
Benefits of Using Gaffer Tape
There are a number of benefits when using gaffer tape, including:
Organization – Keeping aisles and walkways clear for gigs and productions.

Discrete – Gaffer tape is often used to hide cables or conceal stage work from the audience. Many productions use it as an improvised tool to make the environment look as "clean" as possible.

Heat Resistant – Gaffer tape is made to withstand elevated levels of heat so that the adhesive doesn't loosen or bind too strongly.

Non-residue – When removed, gaffer tape does not leave behind any residue, unlike other stronger adhesive tapes like duct tape.

Strong – Even though gaffer tape does not leave behind residue, it is still a very strong adhesive. It can be used in a variety of functions that require a stable tape.
Gaffer Tape vs. Duct Tape
Duct tape is another cloth tape, however its construction uses polyethylene resin on one side and rubber-based adhesive on the other. Duct tape is known around the world as a fix-all for its strength, which is a direct result of its cloth design on the back. The downside of that strength is for less permanent applications, duct tape can be overkill and leave behind lots of adhesive residue.
Gaffer tape, on the other hand, is a cotton cloth tape that is more responsive to pressure when it's applied and doesn't leave behind residue. That being said, you wouldn't use gaffer tape for problems that need a permanent, industrial-strength solution.