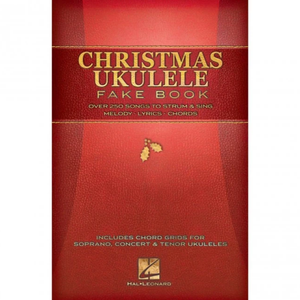 Description

Songs

Humidity Care
Over 250 great songs packed into one handy, portable book!
Inventory # HL00120171
ISBN: 9781480345706
UPC: 884088915551
Series: Ukulele
Format: Softcover
Width: 5.5"
Length: 8.5"
416 pages
A La Nanita Nana (Hear Lullabies And Sleep Now)
All I Want For Christmas Is You
All I Want For Christmas Is My Two Front Teeth
All Through The Night
Almost Day
Angels From The Realms Of Glory
Angels We Have Heard On High
As Long As There's Christmas
As With Gladness Men Of Old
Auld Lang Syne
Away In A Manger
Away In A Manger
Baby, It's Cold Outside
Because It's Christmas (For All The Children)
Believe
Blue Christmas
The Boar's Head Carol
Brazilian Sleigh Bells
Break Forth, O Beauteous, Heavenly Light
Breath Of Heaven (Mary's Song)
Bring A Torch, Jeannette, Isabella
Burgundian Carol
Caroling, Caroling
A Caroling We Go
The Chanukah Song (We Are Lights)
The Cherry Tree Carol
A Child Is Born In Bethlehem
Child Of God
The Chipmunk Song
Christ Was Born On Christmas Day
C-H-R-I-S-T-M-A-S
Christmas Auld Lang Syne
Christmas (Baby Please Come Home)
A Christmas Carol
Christmas In Dixie
Christmas In Killarney
Christmas Is
Christmas Is A-Comin' (May God Bless You)
Christmas Is All In The Heart
Christmas Is Just About Here
Christmas Is The Time To Say I Love You
Christmas Lights
The Christmas Shoes
The Christmas Song (Chestnuts Roasting On An Open Fire)
Christmas Time Is Here
The Christmas Waltz
Christmas Wrapping
Christmastime
Cold December Nights
Coventry Carol
Dance Of The Sugar Plum Fairy, Op. 71a
Deck The Hall
Ding Dong! Merrily On High!
Do They Know It's Christmas? (Feed The World)
Do You Hear What I Hear
Douglas Mountain
Emmanuel (Hallowed Manger Ground)
Emmanuel
Everyone's A Child At Christmas
Feels Like Christmas
Feliz Navidad
The First Noel
The Friendly Beasts
From Heaven Above To Earth I Come
Frosty The Snow Man
Fum, Fum, Fum
Gabriel's Message
Gesu Bambino (The Infant Jesus)
The Gift
Give This Christmas Away
Glad Tidings (Shalom Chaverim)
Go, Tell It On The Mountain
God Rest Ye Merry, Gentlemen
Goin' On A Sleighride
Good Christian Men, Rejoice
Good King Wenceslas
Grandma Got Run Over By A Reindeer
Grandma's Killer Fruitcake
Grandpa's Gonna Sue The Pants Offa Santa
The Greatest Gift Of All
Greenwillow Christmas
Grown-Up Christmas List
Hallelujah Chorus
Happy Christmas, Little Friend
Happy Hanukkah, My Friend (The Hanukkah Song)
Happy Holiday
Happy New Year Darling
Happy Xmas (War Is Over)
Hard Candy Christmas
Hark! The Herald Angels Sing
Have Yourself A Merry Little Christmas
He Is Born, The Holy Child (Il Est Ne, Le Divin Enfant)
Here Comes Santa Claus (Right Down Santa Claus Lane)
Here We Come A-Wassailing
The Holly And The Ivy
A Holly Jolly Christmas
Holly Leaves And Christmas Trees
(There's No Place Like) Home For The Holidays
Home (When Shadows Fall)
How Lovely Is Christmas
Hymne
I Heard The Bells On Christmas Day
I Heard The Bells On Christmas Day
I Need A Silent Night
I Saw Mommy Kissing Santa Claus
I Saw Three Ships
I Still Believe In Santa Claus
I Want A Hippopotamus For Christmas (Hippo The Hero)
I Wish Everyday Could Be Like Christmas
I Wonder As I Wander
I'll Be Home For Christmas
I'll Be Home On Christmas Day
I'm Spending Christmas With You
I've Got My Love To Keep Me Warm
Irish Carol
It Came Upon The Midnight Clear
It Must Have Been The Mistletoe (Our First Christmas)
It Won't Seem Like Christmas (Without You)
It's Beginning To Look Like Christmas
It's Christmas In New York
It's Christmas Time All Over The World
It's Just Another New Year's Eve
Jesu, Joy Of Man's Desiring
Jesus Born On This Day
Jesus What A Wonderful Child
Jingle Bell Rock
Jingle Bells
Jingle, Jingle, Jingle
Jolly Old St. Nicholas
Joseph's Lullaby
Joy To The World
Joy To The World (A Christmas Prayer)
Joyous Christmas
The Last Month Of The Year (What Month Was Jesus Born In?)
Let It Snow! Let It Snow! Let It Snow!
Let's Have An Old Fashioned Christmas
Let's Make It Christmas All Year 'Round
Light Of The Stable
Little Altar Boy
The Little Boy That Santa Claus Forgot
The Little Drummer Boy
Little Saint Nick
Little Town
March Of The Toys
A Marshmallow World
Mary, Did You Know?
Mary Had A Baby
Mary's Little Boy
Mary's Little Boy Child
Masters In This Hall
Mele Kalikimaka
Merry Christmas, Baby
Merry Christmas, Darling
Merry Christmas From The Family
The Merry Christmas Polka
Merry, Merry Christmas Baby
A Merry, Merry Christmas To You
Miracles
Miss You Most At Christmas Time
Mister Santa
Mistletoe
Mistletoe And Holly
The Most Wonderful Day Of The Year
The Most Wonderful Time Of The Year
My Favorite Things
My Only Wish This Year
The Night Before Christmas Song
Noel Nouvelet
Not That Far From Bethlehem
Nuttin' For Christmas
O Christmas Tree
O Come, All Ye Faithful
O Come, O Come, Emmanuel
O Hearken Ye
O Holy Night
O Little Town Of Bethlehem
O Sanctissima
Of The Father's Love Begotten
Oh Santa!
An Old Fashioned Christmas
Old Toy Trains
Once In Royal David's City
One Bright Star
One For The Little Bitty Baby (Go Where I Send Thee)
One King
Out Of The East
Parade Of The Wooden Soldiers
Pat-A-Pan (Willie, Take Your Little Drum)
Please Come Home For Christmas
Acoustic guitars and ukulele are made of wood, and wood is sensitive to changes in climate. Shifts in temperature or relative humidity can affect your instrument in multiple ways, some of which can lead to costly repairs if you're not careful. Solid woods in particular are especially prone to the effects of climate fluctuation. For example, extended exposure to low relative humidity (below 40% RH) can dry out the wood, causing it to shrink and run the risk of cracking. Similarly, excessive humidity can cause the wood to absorb moisture and swell, potentially causing other problems. Without adequate humidity control (especially in drier local climates), acoustic instruments can crack and their necks can warp, causing problems with fretting, intonation and playability.
So how do you prevent this kind of damage? Easy: by keeping your guitars and ukulele properly humidified (ideally between 40-60% RH). The easiest way to do this is by storing your instruments in a case with a case two-way humidifier inside. A two-way humidifier will slowly absorb or release moisture inside your case, maintaining humidity to help ensure your instrument doesn't suffer damage. Using a digital hygrometer can help you monitor humidity levels around your instrument.
Symptoms of a dry acoustic instrument:
Low action. Strings are very close to the fretboard.

Hump on the fretboard where the neck joins the body.

Sunken top across the soundboard between bridge and fingerboard.

The back of instrument looks very flat when it is dried out.

Sharp fret ends extend beyond the edge of the fretboard.

The plane of the neck angle on a dry instrument hits above the top of the bridge.
Symptoms of a wet acoustic instrument:
High action. Strings that are unusually high off the fretboard, making it difficult to play.

Unusually swollen top

Unusual warp on the top, back or both at the end-block

Improper neck angle. Sighting the neck to the bridge, the frets will appear to hit below the bridge.
Using patented technology, the D'Addario Two-Way Humidification System features disposable, moisture-filled packets with a breathable membrane that provides two-way humidity control, meaning it can either release or absorb moisture to consistently maintain a predetermined relative humidity (RH) level of 45-50 percent.
Music Nomad the leader in equipment care products, has developed an easy to use, no mess, and low maintenance Ukulele humidifier. The Humilele rests securely on top of the strings to safely and evenly hydrate your Ukulele to avoid these problems.
Final Notes on Humidity Control
To monitor the amount of humidity your instrument is receiving, we recommend the purchase of a digital hygrometer, a device that gauges and provides a read-out of humidity levels. It can be kept in the room where you store your instruments, or, better yet, in a central location inside the instrument case, preferably Velcro'd to the outside of the accessories compartment (facing the heel). The optimal range for your guitars and ukulele is 45-55% RH.