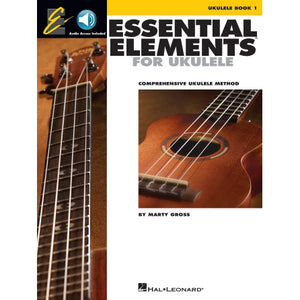 Description

Contents

Humidity Care
Practice, experiment, and have fun playing the ukulele!
Playing the ukulele is an enjoyable, easy, and inexpensive way to get involved in music. It provides a way to learn musical concepts and skills that can apply to any instrument you decide to study. Moreover, it will give you a great opportunity to share the joy of making music with other people. This book will help to provide you with the basic skills and musical background you need to get started. The online audio contains demonstrations of all the songs and examples available for download or streaming using the access code printed inside the book. This carefully crafted method emphasizes chord strumming skills; teaching students HOW to practice; note reading exercises; "chord challenges" to learn how to figure out chord progressions; tab reading; and more.
Series: Essential Elements Ukulele
Publisher: Hal Leonard
Format: Softcover Audio Online - TAB
Author: Martly Gross
Inventory: #HL 00116015
ISBN: 9781480321694
UPC: 884088880897
Width: 9.0"
Length: 12.0"
48 Pages
All My Loving
Amazing Grace
Frere Jacques (Are You Sleeping?)
Go Tell Aunt Rhody
He's Got The Whole World In His Hands
Home On The Range
Hound Dog
Jamaica Farewell
Jambalaya (On The Bayou)
La Bamba
Li'l Liza Jane (Go Li'l Liza)
The Lion Sleeps Tonight
Marianne
Michael Row The Boat Ashore
Octopus's Garden
Ode To Joy
On Top Of Old Smoky
The Rainbow Connection
Rockin' Robin
Shortnin' Bread - Pick A Bale O' Cotton
Simple Gifts
Skip To My Lou
Stand By Me
Swing Low, Sweet Chariot
Take Me Out To The Ball Game
This Land Is Your Land
When The Saints Go Marching In
Yankee Doodle
You Are My Sunshine
Acoustic guitars and ukulele are made of wood, and wood is sensitive to changes in climate. Shifts in temperature or relative humidity can affect your instrument in multiple ways, some of which can lead to costly repairs if you're not careful. Solid woods in particular are especially prone to the effects of climate fluctuation. For example, extended exposure to low relative humidity (below 40% RH) can dry out the wood, causing it to shrink and run the risk of cracking. Similarly, excessive humidity can cause the wood to absorb moisture and swell, potentially causing other problems. Without adequate humidity control (especially in drier local climates), acoustic instruments can crack and their necks can warp, causing problems with fretting, intonation and playability.
So how do you prevent this kind of damage? Easy: by keeping your guitars and ukulele properly humidified (ideally between 40-60% RH). The easiest way to do this is by storing your instruments in a case with a case two-way humidifier inside. A two-way humidifier will slowly absorb or release moisture inside your case, maintaining humidity to help ensure your instrument doesn't suffer damage. Using a digital hygrometer can help you monitor humidity levels around your instrument.
Symptoms of a dry acoustic instrument:
Low action. Strings are very close to the fretboard.

Hump on the fretboard where the neck joins the body.

Sunken top across the soundboard between bridge and fingerboard.

The back of instrument looks very flat when it is dried out.

Sharp fret ends extend beyond the edge of the fretboard.

The plane of the neck angle on a dry instrument hits above the top of the bridge.
Symptoms of a wet acoustic instrument:
High action. Strings that are unusually high off the fretboard, making it difficult to play.

Unusually swollen top

Unusual warp on the top, back or both at the end-block

Improper neck angle. Sighting the neck to the bridge, the frets will appear to hit below the bridge.
Using patented technology, the D'Addario Two-Way Humidification System features disposable, moisture-filled packets with a breathable membrane that provides two-way humidity control, meaning it can either release or absorb moisture to consistently maintain a predetermined relative humidity (RH) level of 45-50 percent.
Music Nomad the leader in equipment care products, has developed an easy to use, no mess, and low maintenance Ukulele humidifier. The Humilele rests securely on top of the strings to safely and evenly hydrate your Ukulele to avoid these problems.
Final Notes on Humidity Control
To monitor the amount of humidity your instrument is receiving, we recommend the purchase of a digital hygrometer, a device that gauges and provides a read-out of humidity levels. It can be kept in the room where you store your instruments, or, better yet, in a central location inside the instrument case, preferably Velcro'd to the outside of the accessories compartment (facing the heel). The optimal range for your guitars and ukulele is 45-55% RH.