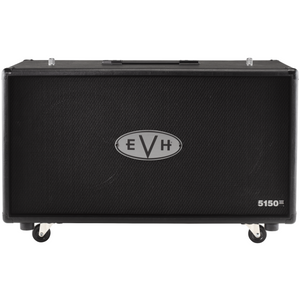 Description

More

Specs

Amp Accessories
*These are stock photos.
Delivering pure EVH sound and power, the EVH 5150III® 2x12 straight-front speaker enclosure is the perfect companion to our 50-watt 6L6 head or 15-watt lunchbox heads.
Available in a thick textured Black or Ivory covering with a silver EVH logo badge, the 2x12 cab features premium 7-ply 5/8" birch pine construction and is loaded with a pair of renowned-sounding 12" Celestion® EVH G12H EVH 30W Annivesary Series speakers.
This cab also includes a molded plastic strap handle with black powder coated caps, head-mounting mechanism and tilt-back legs.
A high-quality fitted cover is available as an EVH accessory.

SOLID & STURDY CONSTRUCTION
The 7-ply 5/8" birch pine construction does more than just safely house the appointments of this cabinet in a rock-solid enclosure. Pine delivers a pleasant yet distinguished top end with added bass notes.
PULSING WITH POWER
A pair of 12" Celestion EVH G12H 30W Anniversary Series speakers delivers Eddie's unparalleled, renowned signature sound that can be heard on all classic Van Halen albums.

GENERAL

Model Number

: 

2253101010
Series

: 

EVH® 5150III® Cabinets
Color

: 

Black
Amplifier Type

: 

Speaker Enclosure
Height

: 

16.5" (41.91 cm)
Width

: 

30" (76.2 cm)
Depth

: 

14" (35.6 cm)
Weight

: 

60 lbs (27.22 kg)
ELECTRONICS

Speaker Jack

: 

One - 1/4"
Total Impedance

: 

16 ohms
CONSTRUCTION

Grill Cloth/Material

: 

Black
Amplifier Covering

: 

Black Textured Vinyl
Cabinet Material

: 

7-Ply 5/8" Birch Pine
SPEAKERS

Speakers

: 

Two - 12" Celestion® EVH® G12H 30W Anniversary Series
Speaker Wattage

: 

60 Watts
Power Handling

: 

60 Watts at 16 Ohms
HARDWARE

Handle

: 

Molded Plastic Strap with Black Powder Coated Caps
ACCESSORIES

Casters

: 

Included
Recommended Cover

: 

Optional P/N 0082026000