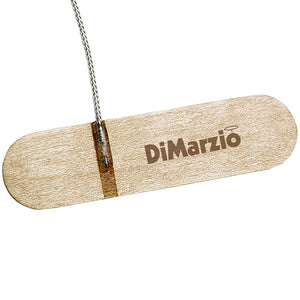 The Black Angel™ Piezo (DP235) is a stand-alone pickup that delivers a beautiful, natural acoustic guitar sound. It retains all the percussive resonance of the body, plus the transparent clarity of the strings. The Black Angel™ Piezo uses our new stratifying technology that stacks our piezo elements between layers of maple, spreading the energy across the entire sensor array. DiMarzio's approach is organic capture — eliminating the need for a built-in battery, preamp, EQ, or digital modeling.
The Black Angel™ Piezo attaches easily to the guitar's internal bridge plate (inside your guitar) with our quick alignment bracket, and can be mounted with hide glue, super glue or any woodworking adhesive.
The Black Angel™ Piezo comes with a Switchcraft® stereo endpin jack so it can be easily paired with The Black Angel™ Magnetic Soundhole Pickup (DP234). Mixing the ambient qualities of the piezo with the great bass response and harmonics of the magnetic delivers a huge, live sound.
Quick Connect Yes
Wiring 1 Conductor
Magnet None
Resistance n/a
Year of Introduction 2015