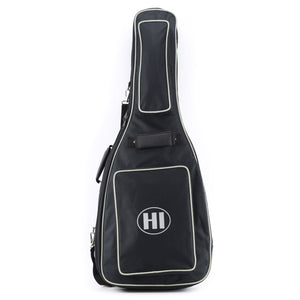 Description

Features

Interior Dimensions
Every instrument needs a case, and HI Bags are the answer to protecting and transporting your instrument. Our Premium Gig Bag line is ridgid and reinforced to protect your instrument from harm, padded backpack straps plus front and side grips allow three comfortable ways to carry your instrument, and spacious neck and body pockets for accessories such as extra strings, tuners, tools, and cleaning supplies.

This acoustic case is intended for standard nylon-string classical acoustic guitar body shapes. May not be suitable for extreme body shapes or instruments with exceptionally long headstocks (see 'Dimensions' tab for sizing information).

All HI Bags products are available exclusively at Easy Music Center.
Reinforced body material

Padded backpack straps

Front-carry & side-carry grips

Padded interior lining


Neck & body pockets



Interior 

Length:Â 43 in

Interior 

Width:Â 16.25 in

Interior 

Depth:Â 6 in