Description

Features

Built-in Songs

Specs

88-Key Keyboard Accessories and Add-Ons
A Musical Space All to Yourself
Color your favorite space with music from your fingertips.
The Privia PX-S1100 brings your room to life with sound.
An evolution in the PX-S1100's design, sound and ease of use for an exceptional performance experience. Express yourself freely through your playing.
CS68 black stand included
The World's Slimmest* Digital Piano for Any Space
A key feature of the Privia PX-S1100 is its slim body. It is the world's slimmest* 88-key digital piano with hammer action.


Captures Even More Beautifully the Sound of a Grand Piano
A grand piano's large body and complex structure create a range of resonances that give it a rich, detailed and unique sound. Casio's original Multi-dimensional Morphing AiR Sound Source accurately generates the unique resonances of a grand piano.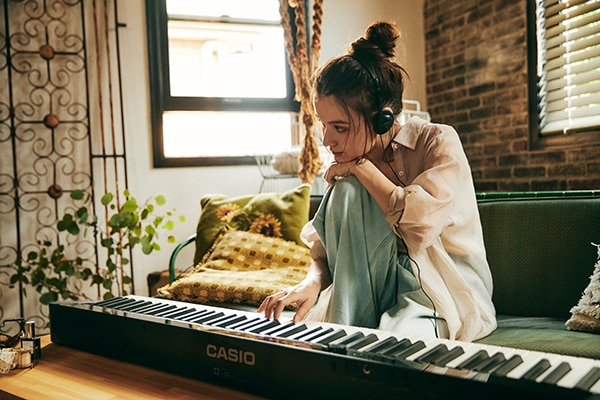 A Speaker System that Brings Your Performance to Life
The speaker system of a digital piano is one of the most important factors in determining the realism of the piano sound. The speaker system of the Privia PX-S1100 features a strengthened diaphragm for a cleaner, richer high end and an improved inner structure design for a more dynamic low end. 

Nocturne Op.9-2
Fantaisie-Impromptu Op.66
Étude Op.10-3 "Chanson de l'adieu"
Étude Op.10-5 "Black Keys"
Étude Op.10-12 "Revolutionary"
Étude Op.25-9 "Butterflies"
Prélude Op.28-7
Valse Op.64-1 "Petit Chien"
Valse Op.64-2
Moments Musicaux 3
Impromptu Op.90-2
Marche Militaire 1 (Duet)
Frühlingslied [Lieder Ohne Worte Heft 5]
Fröhlicher Landmann [Album für die Jugend]
Von fremden Ländern und Menschen [Kinderszenen]
Träumerei [Kinderszenen]
Tambourin
Menuet BWV Anh.114 [Clavierbüchlein der Anna Magdalena Bach]
Inventio 1 BWV 772
Inventio 8 BWV 779
Inventio 13 BWV 784
Praeludium 1 BWV 846 [Das Wohltemperierte Klavier 1]
Le Coucou
Gavotte
Sonatina Op.36-1 1st Mov.
Sonatine Op.20-1 1st Mov.
Sonate K.545 1st Mov.
Sonate K.331 3rd Mov. "Turkish March"
Rondo K.485
Für Elise
Marcia alla Turca
Sonate Op.13 "Pathëtique" 1st Mov.
Sonate Op.13 "Pathëtique" 2nd Mov.
Sonate Op.13 "Pathëtique" 3rd Mov.
Sonate Op.27-2 "Moonlight" 1st Mov.
Rhapsodie 2
Waltz Op.39-15 (Duet)
Liebesträume 3
Blumenlied
La Prière d'une Vierge
Csikos Post
Humoresque Op.101-7
Melodie [Lyrische Stücke Heft 2]
Sicilienne Op.78
Berceuse [Dolly] (Duet)
Arabesque 1
La Fille aux Cheveux de Lin [Préludes]
Passepied [Suite bergamasque]
Gymnopédie 1
Je Te Veux
Salut d'Amour
The Entertainer
Maple Leaf Rag
L'arabesque [25 Etüden Op.100]
La Styrienne [25 Etüden Op.100]
Ave Maria [25 Etüden Op.100]
Le retour [25 Etüden Op.100]
La chevaleresque [25 Etüden Op.100]
No.13 [Études de Mécanisme Op.849]
No.26 [Études de Mécanisme Op.849]
Keyboard

Number of Keys: 88
Key Action: Smart Scaled Hammer Action Keyboard
Touch Response: 5 sensitivity levels, off
88-Key Digital Scaling: Yes
Hammer Response: Yes
Key Off Response: Yes

Tones

Polyphony (maximum): 192
Number of Built-in Tones: 18
Sound Source: Multi Dimensional Morphing AiR
Layer: Yes
Split: Yes

Acoustic Simulator

String Resonance: Yes (4 types, off)
Damper Resonance: Yes (4 types, off)
Key Action Noise: Yes (4 types, off)
Damper Noise: Yes (4 types, off)

Digital Effects

Sound Mode Hall Simulator / Reverb: Hall Simulator 4
Sound Mode Surround: 2
Chorus: 4
Brilliance: Yes
DSP: Yes (Preset for some tones)

Songs

Music Library: 60
Lesson Function: Part ON/OFF
Lesson Function Part Select: Right hand, Left hand
Demo Songs: 1
Song Expansion (User Songs): 10

Additional Features

Connection to App: Chordana Play for Piano ver.2.4
Bluetooth: Wireless MIDI & Audio Adaptor (WU-BT10) included
Bluetooth Version 5.0, Bluetooth Audio Profile: A2DP, Codec: SBC
Bluetooth MIDI Profile: GATT (MIDI over Bluetooth® Low Energy)
MIDI Recorder / Playback: 2 tracks (1 System track+1 track)、1 song
MIDI Recorder / Playback Data Capacity: Approximately 10,000 notes
Audio Recorder / Playback: Max. 99 songs, approximately 25 min/song
Duet Mode: Yes
Octave Shift: -2 octaves to 0 to +2 octaves
Metronome: 0 to 9 beats; tempo range: 20 to 255
Pedals: Included: SP-3, Optional 3-pedal unit: SP-34 (damper, soft, sostenuto)
Pedals Half-Damper Pedal: Yes (Optional 3-pedal unit)
Key Transposel: -12 semitones to 0 to +12 semitones
Tuning Control: A4 = 415.5 Hz to 440.0 Hz to 465.9 Hz
Scale Tuning (Temperament): Equal temperament + 16 variations
Operation Lock: Yes
Others: Touch button: 6 (Tone select button: 1), Auto Power Off

MIDI Yes
Connectivity and Storage

PHONES / OUTPUT: PHONES: 2 (Stereo mini jack)
Pedals: 1 (Damper)
Connector for 3-Pedal Unit: Yes (SP-34)
LINE OUT: 2 L/MONO、R (Standard jack)
USB Type A: Yes(Wireless MIDI & Audio Adaptor)
USB Type B: Yes

Speaker and Amplifiers

Speakers Size: [16cm × 8cm(Oval)] × 2
Speakers Speaker System: 2-Speaker
Amplifiers: 8W + 8W

Power Supply

AC Adaptor: AD-A12150LW
Battery Drive: AA-size batteries x 6
Continuous Battery Life: Approximately 4 hours

Dimensions 1,322 x 232 x 102 mm
Weight 11.2 kg
Included Accessories: Wireless MIDI & Audio Adaptor (WU-BT10), Pedal (SP-3), Music Stand, AC Adaptor (AD-A12150LW), and CS68 Black Stand