Description

More

Features

Specs
The Carry-on Digital Wind Instrument is a practical solution for silent practice and access to a world of different sound possibilities for players of all types of wind instruments. It features 10 voices which can be heard via the instrument's built-in speaker or headphones.

COMPACT
Compact, lightweight and a similar size to a traditional recorder. Small enough to fit in school bags or backpacks, and includes a tote sleeve carry case.
AFFORDABLE
A great value creative musical tool for all abilities and ages. Whether you're starting to learn to play, want to practice silently, or explore the exciting world of MIDI.
PLUG AND PLAY
Practice at all hours without disturbing the neighbours, via volume control or connected headphones.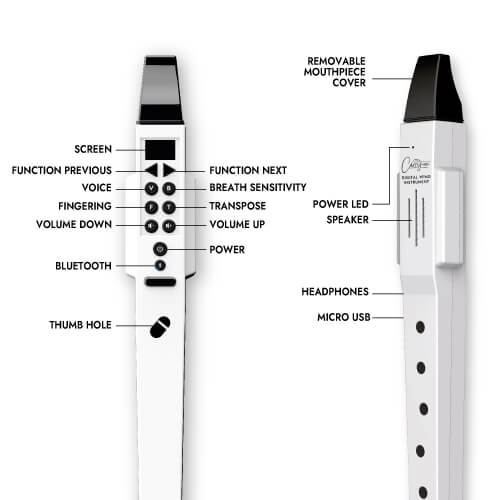 INCLUDED ACCESSORIES
The Carry-on Digital Wind Instrument comes with a soft carry case for easy transportation, and a USB cable for the internal rechargeable battery.
Built-in speaker
Transpose function
MIDI over USB
3 levels of breath sensitivity
Choice of 2 fingerings
Washable silicone mouthpiece
KEYS: Touch sensitive for notation
VOICES: 10
MIDI OVER BLUETOOTH: Yes
TRANSPOSE: Yes +/- 12 semitones
SPEAKER: Yes - internal 3W
HEADPHONE OUTPUT: Yes
VOLUME CONTROL: Yes
BATTERY: Internal rechargeable - 3hrs use from full