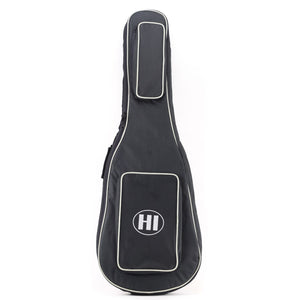 Description

Features

Interior Dimensions

Exterior Dimensions
Every instrument needs a case, and HI Bags are the answer to protecting and transporting your instrument. Our Deluxe Gig Bag line is the best of both worlds: lightweight and easy to carry with padded backpack straps and side-carry grip, and padded lining for greater protection the elements and accidents. Deluxe Gig Bags also feature both neck and body pockets to accomodate accessories you wouldn't want to be without.
This bass case is intended for standard bass guitar body shapes and some extended range guitars. May not be suitable for extreme body shapes or instruments with exceptionally long headstocks (see 'Dimensions' tab for sizing information).
All HI Bags products are available exclusively at Easy Music Center.
Lightweight material
Padded backpack straps
Side-carry grip
Padded interior lining
Neck & body pockets
Interior Length:Â 49.5 in

Interior Width: 17 in

Interior Depth: 4 in
Interior Length:Â 52 in

Interior Width: 19 in

Interior Depth:Â 4.5 in